I was sent to our nation's capital with a clear message from hard-working Arizonans living throughout the 4th district: End the status quo of business as usual in Washington D.C. That means taking bold action to stop out-of-control federal spending and fighting for commonsense solutions to expand economic opportunities for Arizonans.

In pursuit of these goals, I am proud that I was the most effective member of the 113th Congress. During those two years I was able to get six bills and 12 other legislative efforts signed into law and passed 25 amendments through the House of Representatives – more than any other Member of Congress. During my relatively short tenure in Congress, I have passed 15 bills and 24 other legislative initiatives into law and 84 amendments through the House.
BILLS SIGNED INTO LAW:

1. H.R. 687—Southeast Arizona Land Exchange Act (Included in H.R. 3979). Will create 3,700 new jobs, generate $60 billion for our economy and provide 25% of U.S. copper supply. More HERE.

2. H.R. 1612—The I-11 Intermountain West Corridor Development Act (Included in H.R. 22). I-11 and the Intermountain West Corridor will generate $22 billion for our economy and create at least 240,000 permanent jobs. More HERE.

3. H.R. 4198—Grand Canyon Tourism Jobs Protection Act (Included in H.R.4348). Authorized 1,721 additional Grand Canyon flights per year utilizing quiet technology. The air tour industry supports 1,250 good-paying jobs in Arizona and Nevada. More HERE.
4. H.R. 1345—Catastrophic Wildfire Prevention Act (Included in H.R. 2642). Reauthorized stewardship contracting, Good Neighbor Authority, and insect and disease treatment to allow for healthier forests and watersheds throughout the country. More HERE.

5. H.R. 4924—Bill Williams River Water Rights Settlement Act. Provided certainty for the Bagdad Mine which has an annual economic impact of $339.1 million to the state of Arizona, and sustains nearly 4,000 direct and indirect jobs. More HERE.

6. H.R. 304—the La Paz County Land Conveyance Act. Directed the Secretary of the Interior to convey 5,935 acres of Federal Land to La Paz County with the intent of using this land for economic development opportunities. More HERE.

7. H.R. 274—the Cottonwood Land Exchange Act. Authorizes the U.S. Forest Service to exchange, at the request of Yavapai County, 80 acres of federal lands in the Coconino National Forest for 369 acres of lands owned by the county. The County intends to maximize use of Windmill Park to better serve the residents of Yavapai County, the City of Cottonwood and the community of Cornville. More HERE.

8. H.R. 755—the Black Mountain Range and Bullhead City Land Exchange Act. The bill authorized Bullhead City to donate the 1,100 acre mountainous property currently owned by the City to the Bureau of Land Management in exchange for 345.2 acres of land in Bullhead City, known as Section 12, a highly sought property within city limits along the Colorado River. More HERE.

9. H.R. 756—the Embry-Riddle Tri-City Land Exchange Completion Act. Supported the continued growth and development of Embry-Riddle Aeronautical University and the local community by removing the outdated reversionary clause from a 16-acre parcel. More HERE.

10. H.R. 1268—the Bureau of Reclamation Transparency Act. This legislation increased transparency, consolidated multiple reports and required the Bureau of Reclamation (BOR) to do a thorough inventory of its assets as well as prioritize major repairs necessary at the agency's facilities. More HERE.

11. H.R. 489—C.C. Cragin Dam and Reservoir Act. Provided a clear approval process for the Salt River Project (SRP) to maintain the Cragin Dam project and allows water to be delivered to Gila County and Phoenix. More HERE.

12. H.R. 4601—Transferred the reversionary interest on certain lands in Flagstaff, AZ. Authorized new economic development projects within the City of Flagstaff. More HERE.

13. H.R. 3027—Designating the Post Office in Prescott for Sen. Barry Goldwater. Named the Prescott Post Office at 442 Miller Valley Road after Conservative stalwart Barry Goldwater who kicked off his presidential campaign in Prescott, AZ. More HERE.

14. H.R. 1216—Designating the Prescott Vet Center for Dr. Cam McKinley. Named the Prescott Vet Center after Dr. McKinley, a veteran and doctor who spent his life treating veterans with post-traumatic stress disorder. More HERE.

15. H.R. 862—Coconino National Forest Land Conveyance Act. A Gosar-Kirkpatrick bill. Gosar first introduced H.R. 1038 in the 112th Congress. Provided certainty and right of title for property owners. More HERE.


Rainbow Trout Stocking Program at Willow Beach

We had a big win back in October of 2016 when the Fish and Wildlife Service held a ribbon cutting ceremony to commemorate the completion of the new water intake system and that operations of the rainbow trout stocking program will resume at the Willow Beach National Fish Hatchery.
In November 2013, the Fish and Wildlife Service tried to terminate this program and threatened 1,700 jobs and $75 million in associated economic output in Mohave County. I fought for you to reverse this terrible bureaucratic decision and we were successful.
The loss of the trout stocking program would have had a devastating economic effect on local communities. In fact, the state's sport fishing industry relies on the national hatchery system for more than 97 percent of sport fish stocked in Arizona. Click HERE to read more.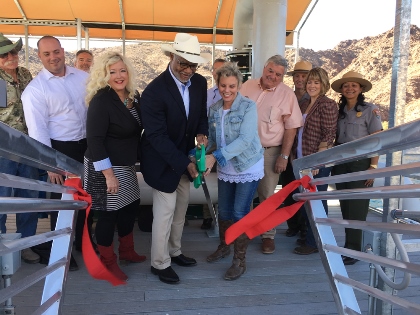 Another big victory came in Lake Havasu City, where we were able to lead a grassroots effort to keep Lake Havasu open for all users.
When the Fish and Wildlife Service attempted to close down significant areas on Lake Havasu to motorized boating activities, I led the charge to get the agency to withdraw its 2016 proposal and passed an amendment through the House to reopen the part of the reservoir that was shut down for no good reason in 2015. Click HERE to read more.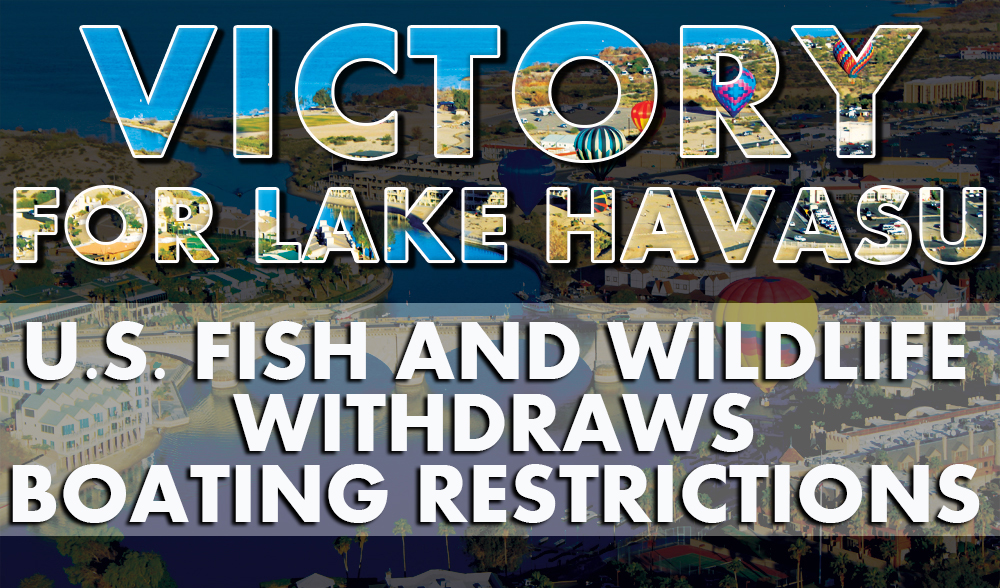 Previous Victories at the Local Level
Previous National Victories
2015 Legislative Year in Review
(CLICK THE INFOGRAPHIC BELOW TO EXPAND)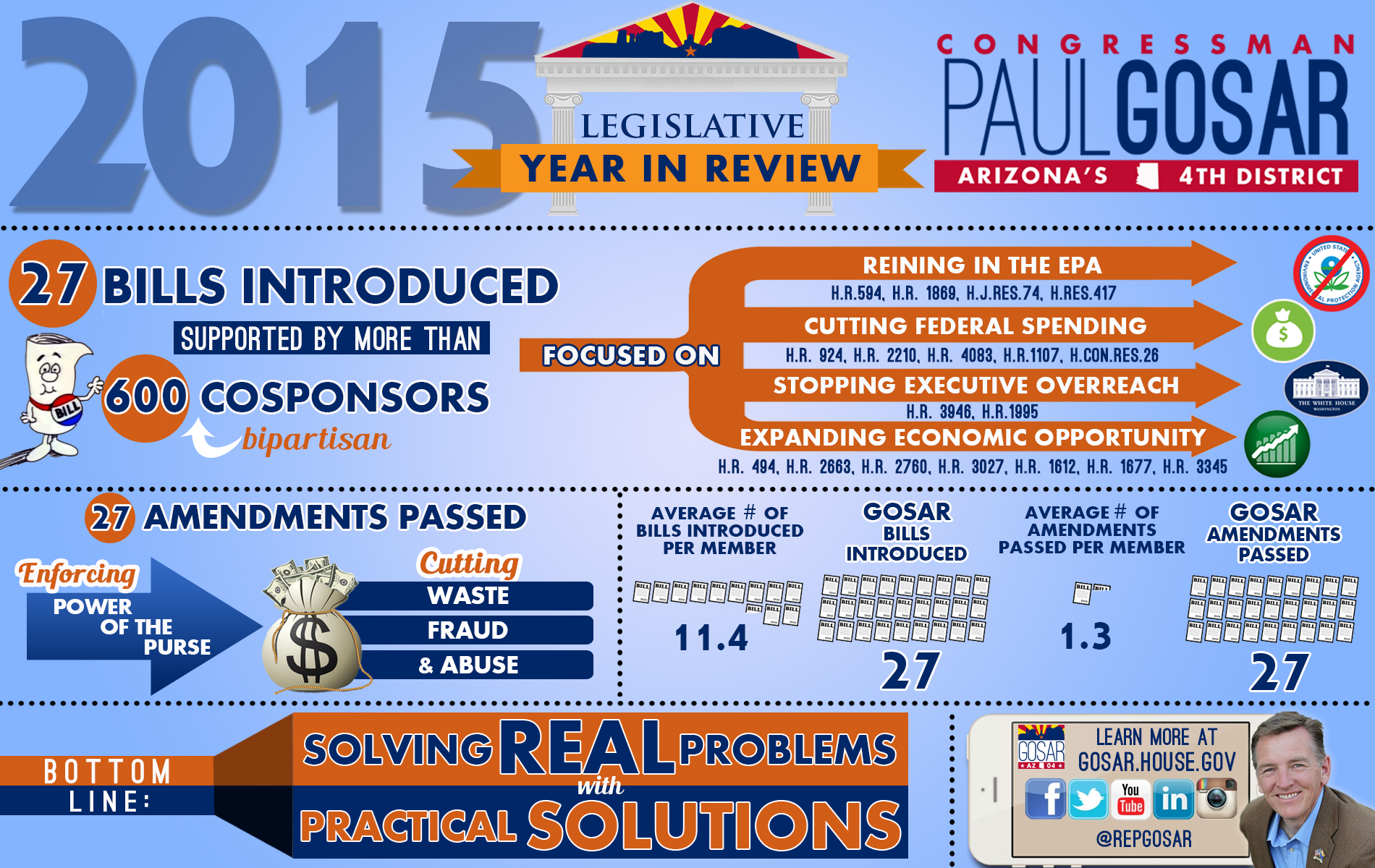 During 2015, I was able to get eight of my legislative initiatives signed into public law and passed 27 amendments through the House. I also held 45 town halls and public meetings, completed 940 constituent requests for assistance with government agencies, and sent over 49,000 letters to constituents.
My Intermountain West Corridor Development Act of 2015 was included in the Transportation bill and signed into law. This legislation extends the future I-11 beyond the Phoenix – Las Vegas region. Extending I-11 and allowing it to become the main transportation corridor in the West will be an economic boon for our communities, creating jobs, allowing for an easier flow of goods and services and authorizing the construction of much needed infrastructure. My WAPA Report language aimed at bringing transparency to this massive bureaucracy.
Retention of one of my riders prohibited funds for an unconstitutional National Roadside Survey. I was able to secure important resources for the Lower Santa Cruz Feasibility Study. Retention of another of my riders saved taxpayer money and prohibit wasteful spending on Scrims. Another one of my amendments adopted into law blocked Obama's $500 million request for a wasteful new bus program and leaves those dollars in the Highway Trust Fund to be spent on roads and bridges. Another one of my amendments passed into law saved taxpayer money and prohibited funds from being used on Government Travel Charge Card expenses for gaming, or entertainment that includes topless or nude entertainers. Finally, I was able to secure an increase for SCAAP, an important grant program that reimburses states and local governments for the cost of incarcerating illegal immigrants convicted of crimes.
113th Congress in Review
(CLICK THE INFOGRAPHIC BELOW TO EXPAND)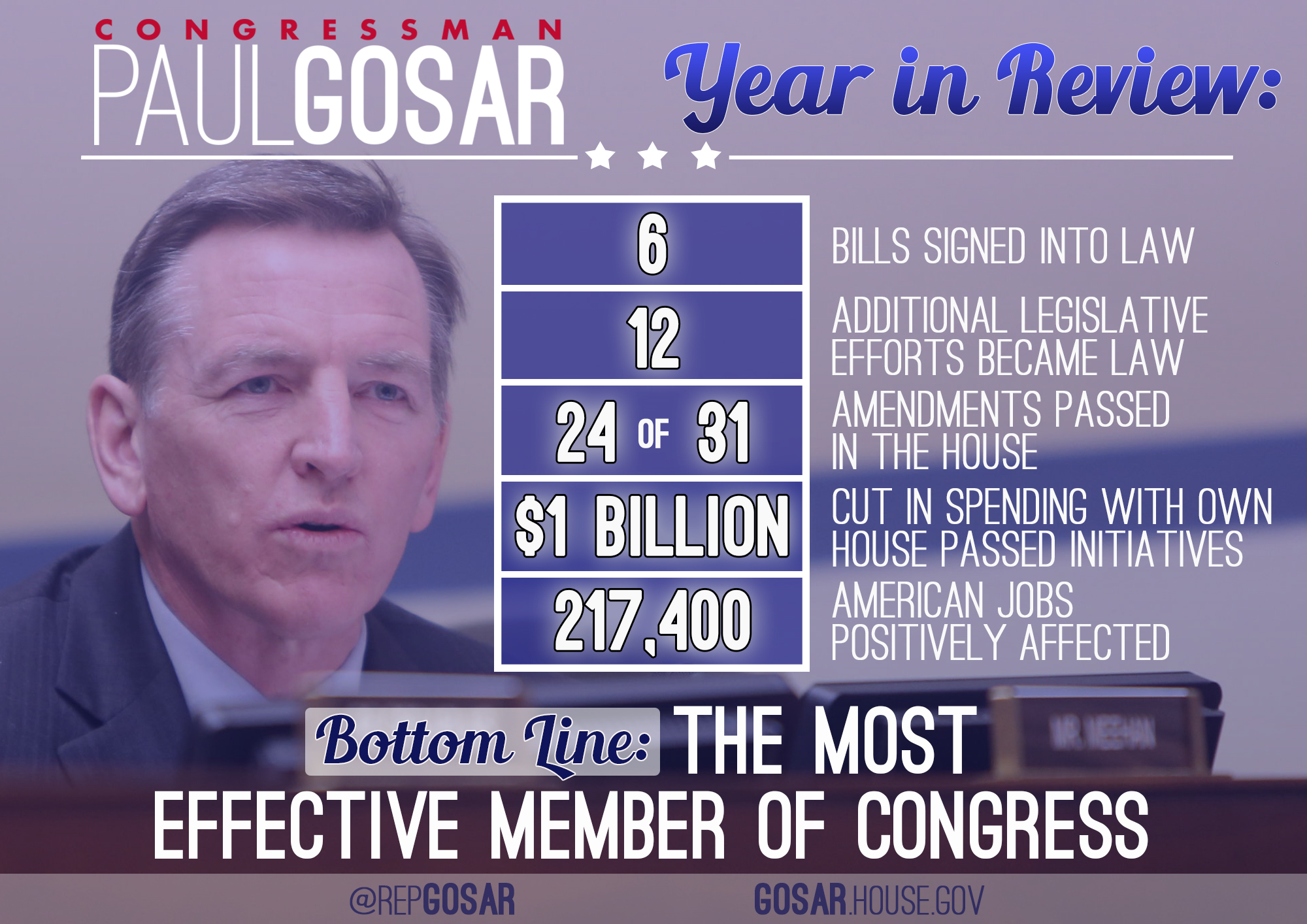 In the 113th Congress, I had more success than any other member of Congress, with six bills signed into law by Obama, 12 other of my legislative efforts becoming law, 25 of my amendments passing the House, and positively affecting almost one billion dollars in federal spending. Most of my successful amendments targeted wasteful spending and government overreach. I successfully passed amendments that cut $345.6 million for the IRS budget and prohibited bonuses for IRS executives, blocked funds from going towards an unconditional roadside survey, and blocked Obama's request for $29 million for a new, duplicative climate change program.

Short Summary: Six bills signed into law. 12 amendments/additional legislative efforts became law. Six bills passed the full House. Six bills passed full Committee. Passed 25 amendments/legislative efforts through the House. Cut nearly $1 billion in spending with own initiatives in House Appropriations bills. Positively affected at least 217,400 jobs with own initiatives.
6 Bills Signed into Law, all passed through House in the 113th Congress alone
1. H.R. 687—Southeast Arizona Land Exchange (Included in H.R. 3979) READ MORE
2. H.R. 1216—Designating the Prescott Vet Center for Dr. Cam McKinley READ MORE
3. H.R. 1345—Catastrophic Wildfire Prevention Act (Included in H.R. 2642) READ MORE
4. H.R. 3027—Designating the Post Office in Prescott for Sen. Barry Goldwater READ MORE
5. H.R. 4924—Bill Williams River Water Rights Settlement Act READ MORE
6. H.R. 862—Coconino National Forest Land Conveyance Act (Gosar-Kirkpatrick bill) READ MORE

12 Amendments/Additional Legislative Efforts Became Law
1. Unconstitutional Roadside Survey Rider— Prohibits funds for National Highway Traffic Safety Administration's National Roadside Survey READ MORE
2. Scrim Rider— Prohibits funds for life-size photographs of building facades on scrims READ MORE
3. Climate Model Development and Validation Program Rider—Prohibits funds for "new initiatives" on climate model development and validation READ MORE
4. Portrait Rider—Prohibits funds government-wide to paint official portraits. READ MORE
5. Cut $345.6 million for the IRS. Gosar amendment that passed House cut $353 million READ MORE
6. Cut $8 million from Department of Justice bureaucrats and transferred that money to bolster Prescription Drug Monitoring activities READ MORE
7. Full funding for the PILT program in fiscal year 2015 READ MORE
8. Sufficient funding for the Combating Terrorism Tech Support Program READ MORE
9. Sufficient funding for the State Criminal Alien Assistance Program (SCAAP) READ MORE
10. Secured $1.6 million for the Rio de Flag flood control project READ MORE
11. Secured $100,000 for the Lower Santa Cruz River Watershed Project READ MORE
12. Court confirms Gosar amendment to protect 2nd amendment on Corps of Engineers' land READ MORE

6 Stand-Alone Bill Passed through Committee
1. H.R. 687—Southeast Arizona Land Exchange and Conservation Act READ MORE
2. H.R. 1345—Catostrophic Wildfire Prevention Act (Included in H.R. 1526) READ MORE
3. H.R. 3027—Designating the Post Office in Prescott for Sen. Barry Goldwater READ MORE
4. H.R. 4924—Bill Williams River Water Rights Settlement Act READ MORE
5. H.R. 5026—Fish Hatchery Protection Act (Natural Resources and Administration has pledged to restart rainbow trout program) READ MORE
6. H.R. 862—Coconino National Forest Land Conveyance Act (Gosar-Kirkpatrick bill) READ MORE
Passed 25 Amendments/Additional Legislative Efforts through the House
1. H.AMDT.296—Chu Memo READ MORE
2. H.AMDT.633—Prohibits Unofficial Record Systems at VA READ MORE
3. H.AMDT.635—Redirects funds to Vet IT Services READ MORE
4. H.AMDT.644—Reduces funds to House Botanic Garden READ MORE
5. H.AMDT.716—Redirects funds from DOJ Legal Activities to Prescription Drug Mon. Program READ MORE
6. H.AMDT.721—Redirects funds from ATF to Vet Treatment Courts READ MORE
7. H.AMDT.726—Redirects funds to Byrne-JAG program READ MORE
8. H.AMDT.813—Prohibiting implementation of HUD's AFFH proposed rule READ MORE
9. H.AMDT.814—Prohibits funds for NHTSA Roadside Survey READ MORE
10. H.AMDT.850—Redirects funds from USDA CFO to USDA OIG (*bill pulled*) READ MORE
11. H.AMDT.852—Redirects funds from USDA-OGC to Spending Reduction (*bill pulled*) READ MORE
12. H.AMDT.921—Prohibits funds to pay for storage of certain unused patrol boats READ MORE
13. H.AMDT.925—Prohibits funds to procure A2CU uniforms READ MORE
14. H.AMDT.944—Prohibits funds to PA, Iran, Syria, ISIS, and Hamas READ MORE
15. H.AMDT.1045—Prohibits DOE's Climate Model Development Program READ MORE
16. H.AMDT.1046—Prohibits funds for high-efficiency toilets READ MORE
17. H.AMDT.1061—Cuts funds for IRS READ MORE
18. H.AMDT.1064—Redirects funds from to US Courts from GSA Rental Money READ MORE
19. H.AMDT.1068—Redirects funds from SBA salaries & expenses to entrepreneurial development READ MORE
20. H.AMDT.1079—Prohibits funds to pay bonuses to IRS employees READ MORE
21. H.AMDT.1146—Forces EPA to make scientific info used to propose their rules available online READ MORE
22. En Bloc Amendment to NDAA (2014)—Expressing Congress' Support for Israel's Right to Self-Defense READ MORE
23. En Bloc Amendment to NDAA (2014)—All Resources Projects Must Comply with INRMP, Not Just On-Installation Projects READ MORE
24. Leg Branch Approps Request— Prohibits funds for life-size photographs of building facades on scrims READ MORE
25. En Bloc Amendment to NDAA (2013) —Expressing Congress' Support for Israel's Right to Self-Defense READ MORE