House passes Gosar's Bipartisan La Paz County Bill
| | |
| --- | --- |
| For Immediate Release | Date: Monday, July 23, 2018 |
| Contact: Melissa Brown | |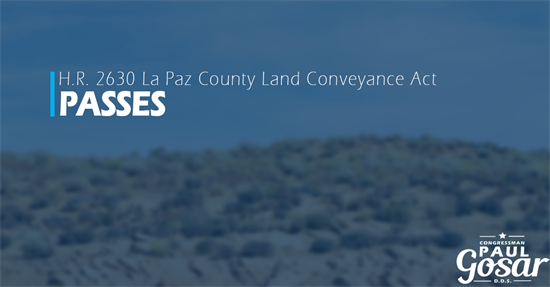 WASHINGTON, D.C. - Today, U.S. Congressman Paul A. Gosar, D.D.S. (AZ-04), La Paz County Board of Supervisors Chairman Duce Minor, Colorado River Indian Tribes Chairman Dennis Patch and U.S. Congresswoman Kyrsten Sinema released the following statement after H.R. 2630, the La Paz County Land Conveyance Act passed the House of Representatives by voice vote. The bill would authorize the Secretary of the Interior to convey Bureau of Land Management (BLM) land to La Paz County, Arizona, in order to create economic development opportunities and facilitate renewable electricity generation:

"I am thrilled to see the House pass this bipartisan jobs bill that embraces a true all-of-the-above energy strategy. This locally-driven solution will allow for future economic prosperity in a county where new opportunities are few and far between due to the abnormally small presence of private land," said Congressman Gosar. "This legislation is good for the County and allows La Paz to generate new revenues in order to fund important services like education, transportation and law enforcement. H.R. 2630 is good for federal taxpayers and is projected to bring in at least six million dollars. Finally, the renewable solar energy generated as a result of this bill will assist with ensuring a balanced portfolio and will provide power to help meet the electricity demands of the West. I am grateful for the close collaboration among La Paz County officials, tribal governments, legislators on both sides of the aisle and other local stakeholders. I urge the Senate to pass this important legislation, that utilizes a bottom-up approach, in an expeditious manner."

La Paz County Board of Supervisors Chairman Duce Minor said, "The Board of Supervisors wishes to thank Congressman Gosar, the bill's cosponsors and other members of the delegation for their leadership to promote jobs and economic development in La Paz County. H.R. 2630 will help implement our vision to attract new industry, especially solar development to this strategic location to diversify our local economy, create quality jobs and increase the tax base so our rural County can adequately meet the growing needs of all our citizens."

"Since time immemorial, the Mohave people have lived in what is now La Paz County, and our history is buried beneath the sands and in the rocks. It is time for federal policy to recognize the history of Native people, not try to erase it. Through this legislation, CRIT and our partners in La Paz County will start to turn the page by ensuring that tribal artifacts found while developing this land are reburied on-site, as called for by our culture. We commend Congressman Gosar for championing this bill and helping forge our partnership with La Paz County. We also want to thank Congresswoman Sinema, and the bills other cosponsors, for putting good policy ahead of politics and supporting this common sense, non-partisan bill, " said Colorado River Indian Tribes Chairman Dennis Patch.

"Arizonans want our leaders to come together to deliver solutions to local challenges—and that's exactly what this bill does," said Congresswoman Sinema. "I'm proud to work across the aisle with Congressmen Gosar and Biggs to push through Washington gridlock and help bring good-paying jobs to families in La Paz County, and more affordable, renewable energy to Arizona."


Background:

On Monday, July 23, 2018, the House passed H.R. 2630, the Bipartisan La Paz County Land Conveyance Act by voice vote.

La Paz County, Arizona, is a county in Western Arizona defined by the Colorado River, the vast Arizona desert and a massive federal footprint. This bipartisan bill helps facilitate a land transfer from the Bureau of Land Management (BLM) to the County. Specifically, H.R. 2630 directs the Secretary of the Interior to convey 8,800 acres of Federal Land to La Paz County for the purposes of economic development opportunities and facilitating renewable electricity generation.

By population, La Paz is Arizona's second smallest county, with just under 21,000 permanent residents. More than a third of those people are over the age of 65.

The unemployment rate in the County is stubbornly high, with La Paz County consistently ranking in the top five counties in Arizona, out of 15, in terms of highest unemployment rate.

Currently, only 6% of the land in La Paz County is in private ownership. Federal, State or Tribal governments own almost 95% of the land within the County – nearly two-thirds of which is owned by the BLM.

Because of the immense federal footprint in the County, a land conveyance is necessary to allow for new opportunities for economic development.
This legislation requires the County to pay fair-market value for the Land involved in this transfer. H.R. 2630 also requires the County to pay for all costs related to the conveyance, including all surveys, appraisals and other administrative costs.
The legislation was drafted at the request of the County in collaboration with tribes and other local stakeholders.
The plot of land the County has identified, with the assistance of the BLM, is ideally situated on the edge of the La Paz/Maricopa County line adjacent to existing and proposed fiber optic, electric and natural gas transmission lines. Further, the transferred parcels are conveniently located next to the "Ten West Link," a 114-mile transmission line that will further interconnect Arizona and California.
The Congressional Budget Office estimates the bill will generate $6 million for the federal government.
The BLM-prepared map depicting the proposed land conveyance can be found HERE.
Cosponsors: Andy Biggs, Trent Franks, Kyrsten Sinema

Endorsed by: Colorado River Indian Tribes
###