I am an active member and leader within the House Freedom Caucus, an organization comprised of roughly 40 conservatives dedicated to changing Washington and holding Republican leadership accountable. As Politico reports, we are focused on "allowing legislation and amendments to flow through committees in a deliberative way, and giving individual members a chance to offer amendments and to have their ideas voted on on the House floor. Instead of waiting until right before the latest legislative crisis erupts, then twisting members' arms for votes, they argue, leadership must empower the rank and file on the front end and let the process work its will."
Richard Viguerie of ConservativeHQ said, "Rep. Gosar's reputation as a fighter for the conservative agenda has left him as one of the few reliable full spectrum conservatives in the House...The Washington establishment is not happy with Rep. Gosar, and the House Freedom Caucus to which he belongs, and they are behind the efforts to defeat Gosar. They want a stooge to vote the way they demand and they think…Rep. Paul Gosar, who like millions of other Americans has said enough is enough, and is willing to tenaciously fight every battle to preserve our liberty."
Daniel Horowitz of Conservative Review wrote, "Since 2012, [Gosar] has not only been a reliable conservative vote, but a conservative voice for so many initiatives on immigration. He joined in the fight against John Boehner and is always a reliable vote whenever conservatives need to take down a rule on bad legislation. In short, Gosar has become one of the most conservative members and a model for improvement in the House."
Breitbart News reported, "Gosar has been one of the few members of Congress who has fought for conservative values in Washington. With the help of other conservative leaders, Gosar worked to oust former House Speaker John Boehner. He has also been a vocal critic of President Obama's unlawful amnesty policies and the Obama administration's botched Fast and Furious operation.
The American Conservative Union (ACU) named Dr. Gosar its inaugural "Conservative in the Spotlight. "Congressman Gosar fights relentlessly against the unlawful EPA and for limiting the growth of government," said ACU Chairman Matt Schlapp. "We are proud of Congressman Gosar's leadership and how he identifies misconduct, pushes back against it, and defends Americans from government overreach."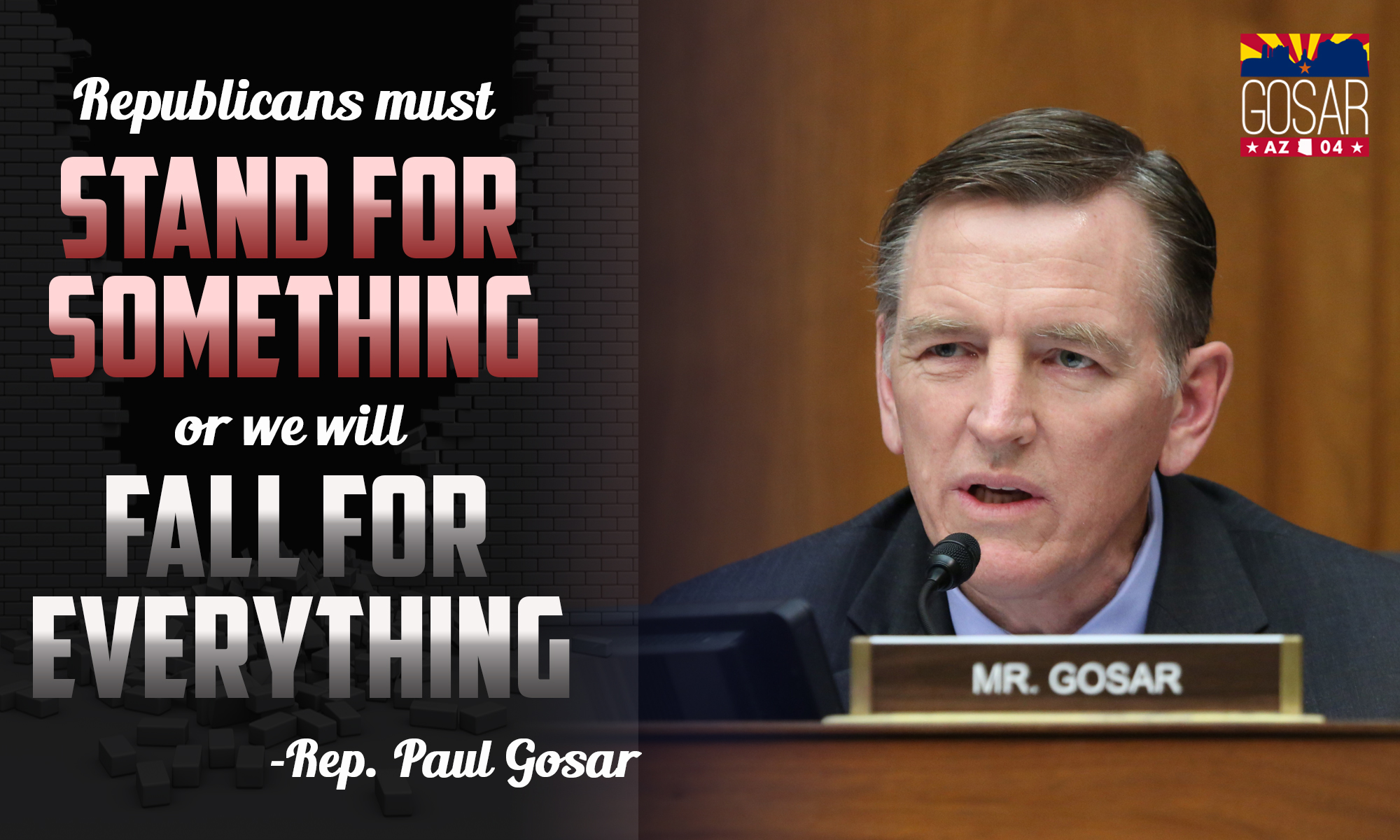 I have challenged the status quo my entire life and always call a spade a spade. Our country needs more bold, conservative leaders that will actually do what they promised to do prior to coming to Washington D.C. I will continue to do everything I can to fight the status quo and change Washington, even if it costs me my own reelection. There is too much at stake to let this madness continue.
One thing is clear, when I took office the tone on Capitol Hill was that of embracing business as usual. Politicians were more concerned about getting reelected than making the tough decisions necessary to get our country back on track. Particularly, the Senate and the White House did not want to make any spending cuts and were actively supporting budgets that actually increased spending.
I refuse to go along with the status quo of more wasteful federal spending and have done my part to change the flawed culture in Washington. The House of Representatives has the power of the purse and must stop spending money we simply do not have. I have passed 84 amendments through the House, most of which were focused on cutting wasteful government spending or blocking job-killing regulations. In three fiscal years alone, my amendments cut and prevented more than $1.6 billion in wasteful federal spending. Some of these successes include cutting the IRS budget by $350 million, preventing $440 million from going to terrorist organizations like ISIS and prohibiting bonuses for IRS bureaucrats.
I refused to let the Obama Administration force their misguided ideology through regulatory overreach and led the charge in blocking job-killing new regulations. I fought WOTUS since the beginning and introduced legislation, inserted funding riders into appropriations bills, blocked a democrat amendment that tried to strip one of my riders, and voted at least five different times for legislation that has passed the House to block WOTUS. I introduced legislation to block the EPA's new ozone regulation. Nearly 700 stakeholders throughout the country called on Congress to stop the overreaching new ozone rule that many believe is "the most expensive regulation in history."
I led the charge in seeking to remove Obama's henchmen, introducing articles of impeachment against EPA Administrator Gina McCarthy and IRS Commissioner John Koskinen as well as leading the charge against Attorney General Eric Holder. I spearhaded the effort opposing Obama's new housing regulation, one of Obama's most far-reaching attempts yet to punish communities that don't submit to his liberal ideology.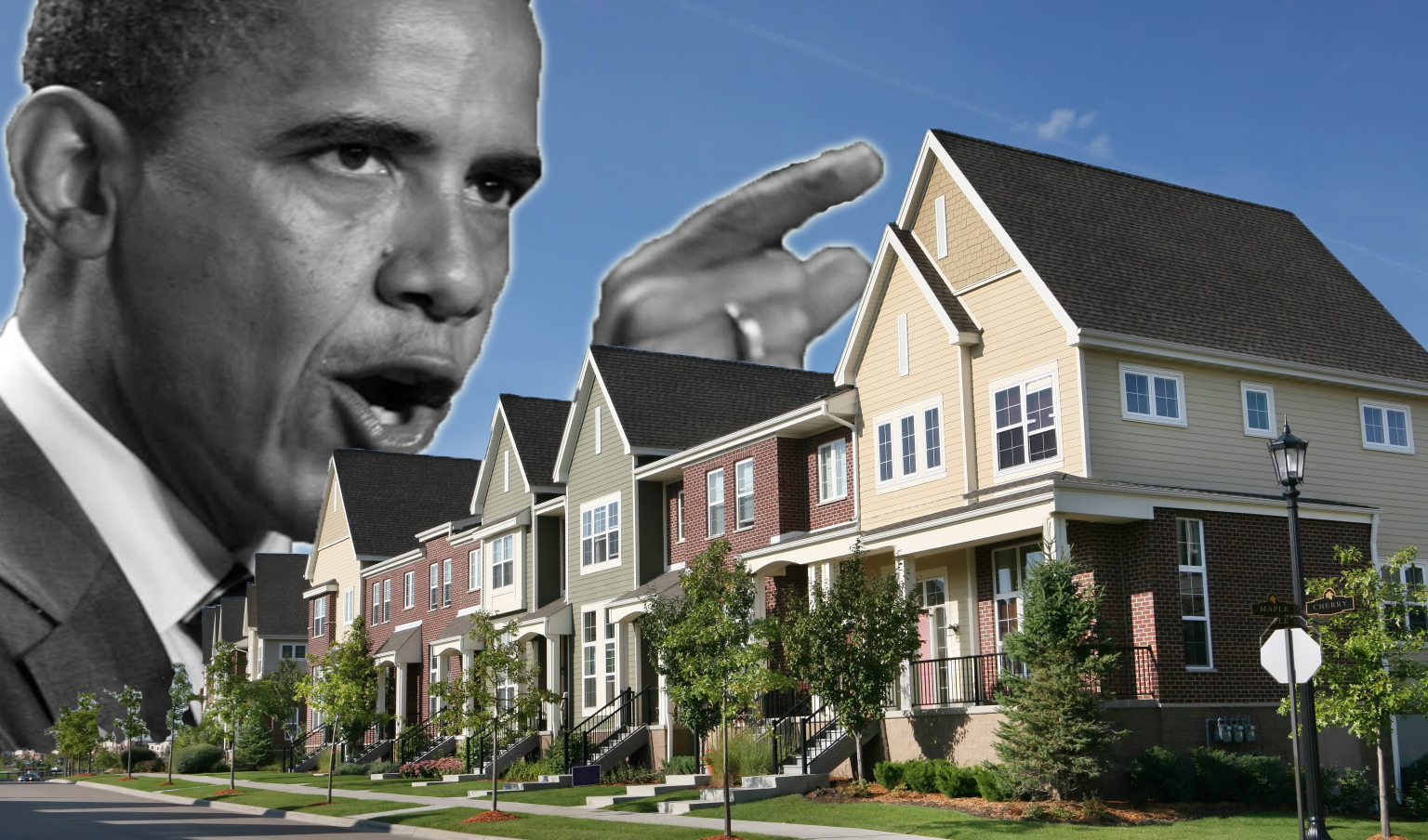 The House Freedom Caucus
As I previously mentioned, I am an active member and leader within the House Freedom Caucus, an organization comprised of roughly 40 conservatives dedicated to changing Washington and holding Republican leadership accountable. Since our founding in January 2015, the House Freedom Caucus, has fought to stop business-as-usual in Washington D.C. As conservative stalwart Jim DeMint stated, "This small band of conservative House members had the audacity to challenge the status quo in Congress, and in the eyes of Washington's comfortable elites, that's a serious offense. For years, Washington's chattering class has guarded the status quo on behalf of the Establishment. But despite the howls of media outrage, the Freedom Caucus persevered and succeeded in making changes that brought in a new speaker of the House."
The House Freedom Caucus has been focused on fixing the process and returning to regular order. As USA Today reported, "the Freedom Caucus featured a litany of complaints that only partially involved ideological differences between Caucus members and Boehner. It was basically a revolt of back-benchers — relatively junior members who happen to be conservatives because so many of them were elected since 2010 as anti-President Obama candidates — who called for the restoration of something called "regular order.'...'Regular order'...refers to the legislative process... — highly structured, participatory lawmaking that proceeds in an orderly manner from the introduction of a bill, through committee action, to its signing by the president. It is a transparent and inclusive process that engages the energies of all lawmakers, from the most junior to the leaders of the two major political parties."
Impeaching EPA Administrator McCarthy
Under Administrator McCarthy's direction, the EPA enacted job-killing regulations that increased food prices and energy costs for hard-working American families. Hundreds of thousands of jobs were lost as a result of these new mandates, which disproportionately impact the poor. This should be concerning enough, but to make matters worse, these regulations were not based on science and were imposed through lies to Congress and the American people. On numerous occasions, EPA Administrator Gina McCarthy broke the law by lying to Congress in order to force misguided and overreaching regulations, which have no scientific basis, down our throats. We must hold D.C. bureaucrats accountable when they commit perjury or make false statements. Perjury before Congress is perjury to the American people and an affront to the core principles of our Republic. That is why I introduced articles of impeachment to remove Administrator McCarthy from office. Click HERE to read more.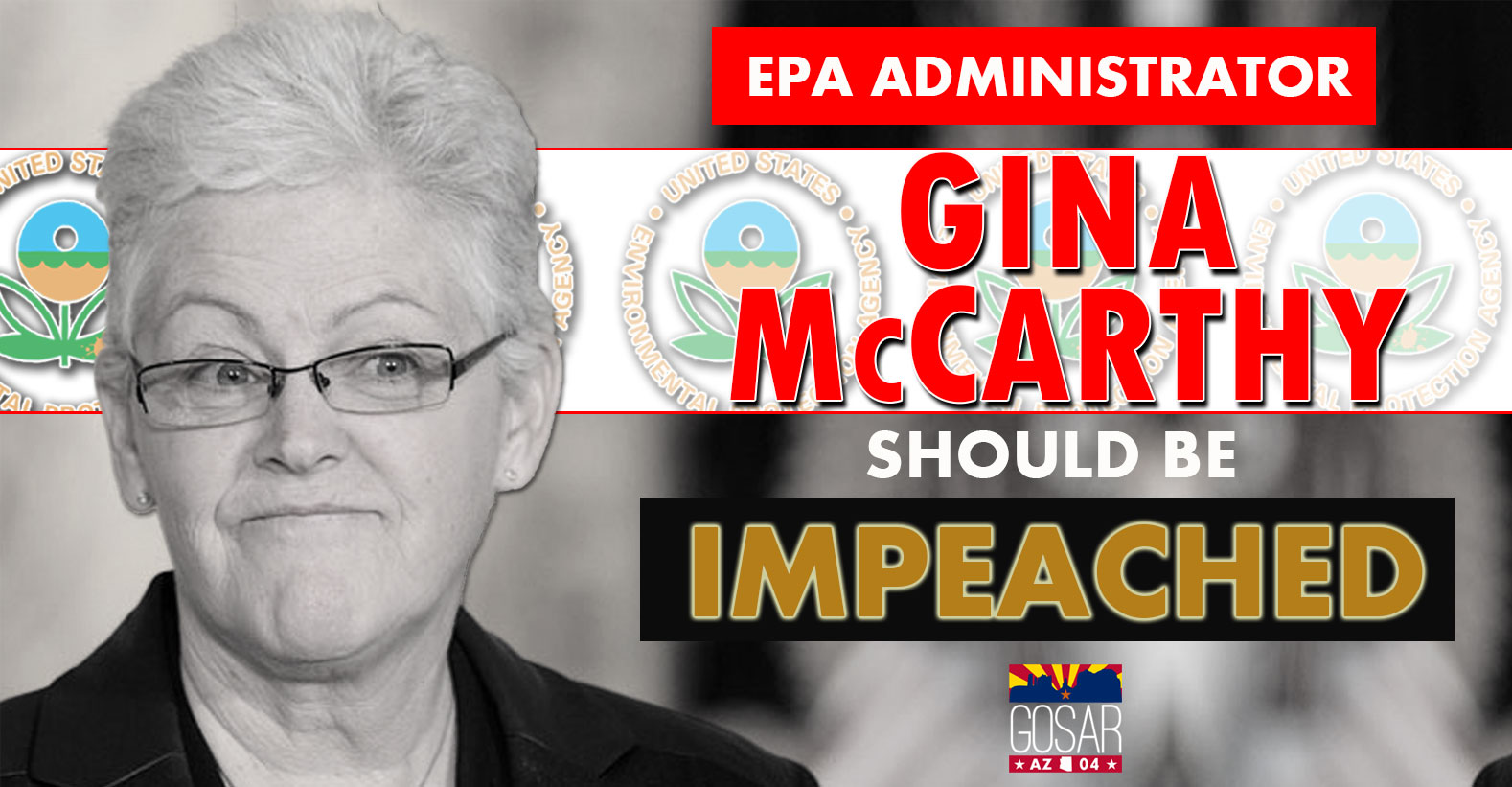 Holding Lois Lerner in Contempt
As an employee of the federal government, Lois Lerner took an oath to support and defend the Constitution of the United States. Her behavior, however, was directly contradictory to the Constitution. As a former public servant, Mrs. Lerner has an obligation to give the American people answers as to why their government chose to target specific groups based on their political ideologies. The House Oversight and Reform Committee, on which I serve, subpoenaed Mrs. Lerner to provide those answers, but she refused to comply by asserting her right to remain silent under the Fifth Amendment. However, before pleading the Fifth, she declared her innocence, thereby waiving her right to remain silent. She continued to refuse to testify, which is why the House voted with my support to hold her in contempt in May 2014. CLICK HERE to read more.
Holding Eric Holder in Contempt
In conducting an honest review of Holder's legacy, one must address the racial tension he created. His incessant focus on these issues only worsened race relations in a country that, despite its shaky past, had made much progress in this area. Holder criticized several states for their voter ID laws, and even prosecuted Alabama for passing laws he claimed violated Section 5 of the Voting Rights Act—laws that were intended to prevent illegals and non-citizens from voting. The list of egregious offenses during the Holder-era goes on and on: assault on the Second Amendment and Operation Choke Point, Fast and Furious, failure to prosecute members of the New Black Panther Party, the IRS scandal, spying on journalist James Rosen, tapping the phone records of the Associated Press, failing to enforce our immigration laws, encouraging state attorney generals not to enforce laws they philosophically disagree with, advising President Obama that he didn't need to follow the law and notify Congress prior to the Bergdahl-Taliban swap, etc. Suffice it to say that no Attorney General—in fact, no cabinet member—has had a more scandal-plagued tenure. I led the charge against Attorney General Eric Holder and introduced a bill that garnered 142 cosponsors "expressing no confidence" in Holder. Those sentiments were expressed when the House ultimately voted to hold Attorney General Holder in contempt of Congress.
Impeaching John Koskinen
I joined 18 other members of the House in introducing legislation that initiated articles of impeachment against John Koskinen, Commissioner of the Internal Revenue Service (IRS), for high crimes and misdemeanors. Under the direction of Commissioner John Koskinen, IRS officials led a coordinated effort to hide the truth about this rogue agency's targeting of innocent Americans based on their political beliefs. On Koskinen's watch, the IRS intentionally destroyed nearly 24,000 emails from Lois Lerner and failed to comply with a Congressional subpoena. To make matters worse, Commissioner Koskinen made a series of false and misleading statements, under oath, to Congress at multiple committee hearings on this matter. Koskinen told Congress that the IRS had turned over all Lerner's emails and all requested information, yet, the Treasury Inspector General for Tax Administration uncovered more than 1,000 emails that the IRS tried to hide. CLICK HERE to read more.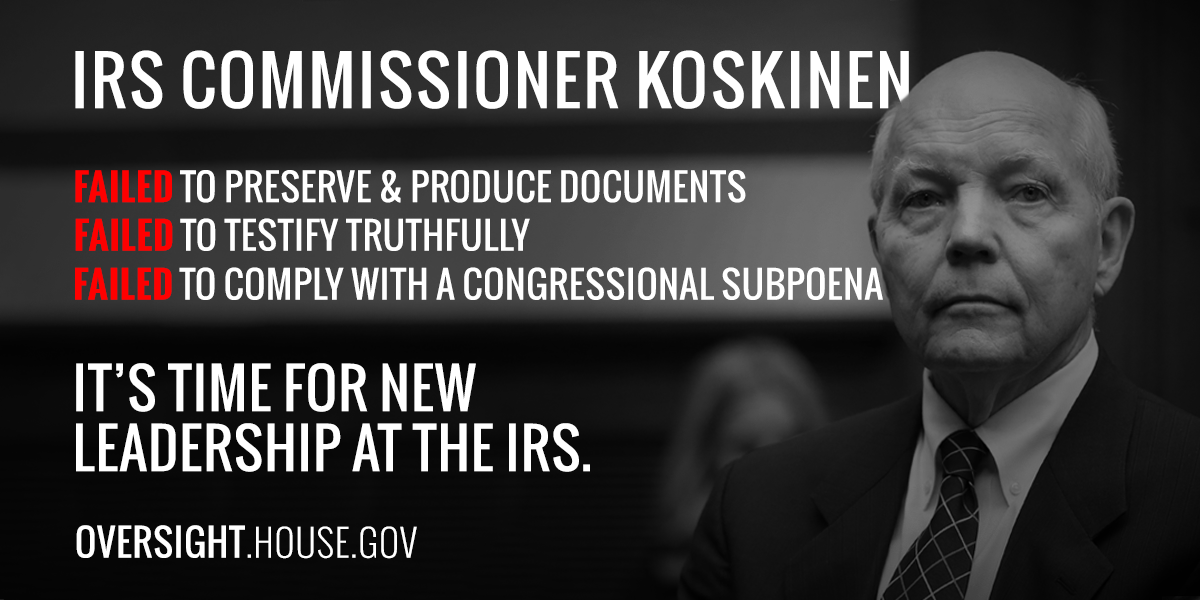 Preventing Members of Congress from Flying First-Class on Your Dime
I introduced the bipartisan Coach-Only Airfare for Capitol Hill Act to prohibit members of Congress from using official funds known as Member Representational Allowance (MRA) to purchase first-class airline tickets while traveling for official Congressional duties. Currently, there exists a loophole that allows members of Congress to fly first-class at the expense of hardworking taxpayers. Members of Congress are public servants of the people and should not be considered a privileged status. As current regulations prevent men and women serving in the U.S. military from flying first-class, there is absolutely no reason why members of Congress should be given a special exemption not offered to our nation's heroes. It's time to end the double standard and rein in this abuse. CLICK HERE to read more.
Utilizing the Power of the Purse
In July of 2014, the House of Representatives sent a strong message to the IRS and the Obama Administration, "Shape up or lose your funding." The House passed an appropriations bill which cut funding to the IRS by over $1 billion and to its lowest level since 2003. The House unanimously adopted one my amendments that cut funds for the IRS by $353 million as part of the Financial Services and General Government Appropriations Act of fiscal year 2015. Another one of my successful amendments prohibited bonuses for senior executive service employees at the IRS for fiscal year 2015. CLICK HERE to read more.

The House passed my amendment to prohibit $440 million dollars within the Department of Defense Appropriations Act from being disbursed to ISIS, Hamas, Iran, the Palestinian Authority and other Foreign Terrorist Organizations. With our federal debt and foreign policy in shambles, it is long past time that Congress prevent federal dollars from going towards organizations and countries who actively work to harm the United States and its interests. Click HERE to read more.

The House passed my amendment to prohibit any funds from being used for the Obama Administration's proposed Rapid Growth Area Transit Program. With significant infrastructure needs, including road and bridge maintenance, proposing to spend $500 million on a new discretionary bus transit program was extremely wasteful. CLICK HERE to learn more about my successful effort that was signed into law and blocked one of President Obama's terrible new proposals, keeping $500 million in the Highway Trust Fund.