I share your concerns on our national debt. We currently owe over $22 trillion, a record amount. As others have pointed out, I share the view that our country does not have a revenue problem (the Treasury currently collects $2.5 trillion in taxes), but we have a serious spending problem. At the current pace, our national debt will exceed the size of our economy in less than two years. In 2010, our country paid over $1 billion per day in interest on our debt for a total of $414 billion. We spend more on interest on our debt than some of our most important government departments—second only to what we spend on national defense.
The national debt threatens our economic security and because it threatens our economy, it threatens our national defense. Admiral Mike Mullen, former Chairman of the Joint Chiefs of Staff, has stated that the national debt is the biggest threat to our national security. I was sent to Washington to change the direction of this country— not to take empty votes that accomplish nothing. I was not sent to DC to increase taxes and have consistently voted against any legislation that includes a tax increase. Our debt and spending crisis are like a super tanker. In order to bring a super tanker to a stop, you cut engines many miles from port. In order to change direction even slightly, the captain has to start the maneuver miles ahead of time. As each spending fight has occurred over the last couple years, my conservative colleagues and I continue to veer our tanker away from its current course. America did not create this debt and spending crisis overnight. We cannot fix it overnight. But we can take steps today to change direction. We must act today incrementally to fix our problems. We cannot wait until these programs are all insolvent and the IMF imposes austerity measures on us.
The American people have overwhelmingly demanded that Congress takes action to put our country back on a fiscally sustainable path by reducing our egregious national debt and budget deficit. The House of Representatives has the power of the purse and must break through the status quo of allowing our nation to spend money we simply do not have. In the fiscal year 2015 appropriations process, I had more success than any other member of Congress, passing 21 of 27 amendments and positively affecting almost one billion dollars in federal spending. My amendments accounted for more than 10% of the total amendments passed by the House during the appropriations season. I have been relentless in such pursuits and have sought to restore fiscal responsibility as well as commonsense to a bloated federal government that has lost its way. I will continue to cut wasteful federal spending wherever I can. The American people and taxpayers deserve nothing less.
Voting Against Increasing the Debt Ceiling
Shockingly, the nonpartisan Congressional Research reported in November 2015, that "since 1978, Congress has passed, and presidents have signed into law, 56 measures adjusting the statutory debt limit either as stand-alone legislation or as part of legislation dealing with other matters." Congress must stop increasing and suspending the debt ceiling and kicking the proverbial can down the road. In May 2011, I cast my first vote in relation to the debt ceiling and voted against H.R. 1954, which was President Obama's initial request for a $2.3 trillion increase to the debt ceiling without any spending cuts. Fortunately, my colleagues and I were able to defeat this awful bill. In July 2011, I voted against H.R. 2693. While this bill proposed to reduce spending by $927 billion over ten years, it increased the debt ceiling by $2.4 trillion. In September 2011, I voted for H.J. Res 77 and to reject Obama's request to increase the debt ceiling by $500 billion. In January 2012, I voted for H. J. Res. 98 and to reject the president's request to increase the federal debt ceiling by $1.2 trillion. In October 2013, I voted against H.R. 2775 and against suspending the debt ceiling. This terrible bill handed D.C. bureaucrats a blank check for approximately five months. In October 2015, I voted against H.R. 1314, the Bipartisan Budget Act of 2015, because it suspended the debt ceiling through March 2017 and again handed Washington politicians a blank check that will likely add more than a trillion dollars to our national debt. CLICK HERE to read more.
The Budget Control Act
I was proud to vote for S.627, the Budget Control Act of 2011, because it contained provisions for deep cuts, no tax increases, and required a vote on a balanced budget amendment in both Houses during 2011. Those are fundamental conservative values that we were able to implement into law. While the bill was not 100% perfect, it is the only successful effort to reduce spending for three years in a row since World War II. The Budget Control Act was the one major fiscal victory achieved by Republicans when we took back the House majority. CLICK HERE to read more.
Utilizing the Power of the Purse
In J2014, the House of Representatives sent a strong message to the IRS and the Administration, "Shape up or lose your funding." The House passed an appropriations bill which cut funding to the IRS by over $1 billion and to its lowest level since 2003. The House unanimously adopted one my amendments that cut funds for the IRS by $353 million as part of the Financial Services and General Government Appropriations Act of fiscal year 2015. Another one of my successful amendments prohibited bonuses for senior executive service employees at the IRS for fiscal year 2015. CLICK HERE to read more.

In 2014, the House passed my amendment to prohibit approximately $440 million dollars within the Department of Defense Appropriations Act for fiscal year 2015 from being disbursed to ISIS, Hamas, Iran, the Palestinian Authority and other Foreign Terrorist Organizations. With our federal debt and foreign policy in shambles, it is long past time that Congress prevent federal dollars from going towards organizations and countries who actively work to harm the United States and its interests. Click HERE to read more.

In J2015, the House passed my amendment to prohibit any funds from being used for the Federal Transit Administration's proposed Rapid Growth Area Transit Program. With significant infrastructure needs, including road and bridge maintenance, spending $500 million on a new discretionary bus transit program would have been incredibly wasteful. CLICK HERE to learn more about this successful effort that was signed into law and kept $500 million in the Highway Trust Fund.

In 2015, the House passed my amendment that cut the EPA budget by $61,304,000. Under the Obama Administration, the EPA took unprecedented actions to defy the rule of law and enact far-left, extremist policies by executive fiat. In response, I was more than happy to remind this out-of-control, rogue agency about our Constitution and system of checks and balances which includes 'the power of the purse' granted to the House of Representatives. Click HERE to read more.

In 2014, the House passed my amendment and blocked Obama's request for $29 million for a new, duplicative climate change program. The non-partisan Congressional Research Service estimates the Administration spent almost $77 billion from FY2008 through FY2013 studying and trying to develop global climate change regulations. This amendment was about restoring fiscal responsibility and efficiency to federal spending as well as preventing duplication. CLICK HERE to learn more about my successful effort that was signed into law and blocked Obama's $29 million new climate change program.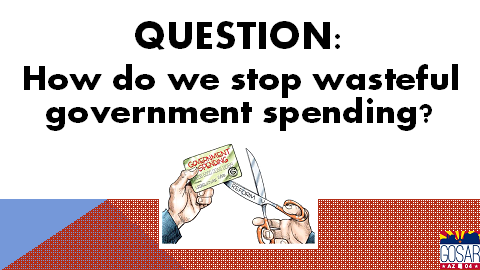 In 2014, the House passed two of my amendments to the Legislative Branch Appropriations Act of 2015 to save taxpayers money. My first successful amendment saved $3.1 million and prevented a budget increase for the United States Botanic Garden. My second successful amendment that was signed into law prevented printing of life-size photographs of building facades on scrims that conceal scaffolding erected to repair public buildings in the United States Capitol Complex. The Architect of the Capitol wasted a bunch of taxpayer money on this practice during renovations of the Supreme Court and justified this lavish expenditure by asserting that this practice is "used extensively in Europe." This is America and the only reason there is not a wasteful scrim concealing the scaffolding of the U.S. Capitol right now is because of my language in law blocking this practice. CLICK HERE to read more about this provision that was signed into law multiple times.

In 2014, I first pushed a legislative effort to prohibit funds for the National Highway Traffic Safety Administration's National Roadside Survey. This program was not only wasteful and ineffective, but it was an infringement on our Constitutional rights to privacy and the 4th Amendment civil liberties of American Citizens. The implementation of the survey used uniformed police officers to stop drivers and allow researchers to collect a passive alcohol sensor reading before the driver agreed to participate in the survey. Previous surveys have squandered almost $8 million dollars of taxpayer money and done nothing to make our communities safer. CLICK HERE to learn more this successful legislative effort that was signed into federal law multiple times.
Another one of my amendments passed into law will save taxpayer money and prohibits funds from being used on Government Travel Charge Card expenses for gaming, or entertainment that includes topless or nude entertainers. "A recent Defense inspector general report found that civilian and military employees between 2013 and 2014 used government charge cards to make more than $1 million in purchases at casinos and to pay for adult entertainment." CLICK HERE to read more.

In 2015, I passed an amendment to the Commerce, Justice, Science and Related Agencies Appropriations Act for Fiscal Year 2016 which cut funds from the Department of Justice's General Legal Account, specifically targeting the Deputy Attorney General's office until the Attorney General fully enforces current federal criminal immigration laws. In recent years, DOJ has instructed U.S. Attorney's Offices in some states not to prosecute persons that violate certain criminal immigration laws and to terminate worthwhile enforcement programs like Operation Streamline. In order to change the rampant culture of corruption within this rogue agency, I cut funds for DOJ employees who have failed to enforce our immigration laws. CLICK HERE to read more.

In 2015, I passed two amendments through the House and cut $10 million from ATF's budget. My first successful amendment cut $5 million from ATF bureaucrats and redirected those resources to Veterans Treatment Courts. My second successful amendment cut $5 million from ATF bureaucrats and redirected those resources to the Prescription Drug Monitoring Program, restoring PDMP funding to the original House-approved levels. PDMP has proven to be an effective tool in reducing the growth of prescription drug abuse which has contributed to addiction, health deterioration and even untimely death for far too many across our country. CLICK HERE to read more.
The Compact for a Balanced Budget Amendment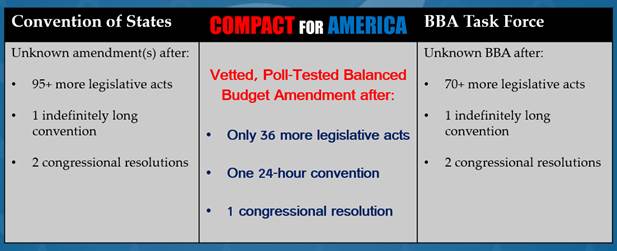 In 2015, I introduced the Compact for a Balanced Budget Amendment. The Compact for a Balanced Budget consolidates everything Congress and the states do into two overarching pieces of legislation—one congressional resolution and one interstate compact joined by thirty-eight states. This approach dramatically reduces the time and resources needed to achieve a Balanced Budget Amendment and utilizes an innovative approach to our budgetary challenges that did not require the president's signature. CLICK HERE to read more.
Full Faith and Credit Act
To help provide certainty to our debt markets, I cosponsored the "Full Faith and Credit Act," which directed the United States Treasury, in the event the debt ceiling was reached, to pay principal and interest due on the national debt before making any other payments. The principle behind this bill is simple: the "full faith and credit" of the United States should not be threatened every time we approach the national debt limit, as has been suggested by Treasury Secretary Geithner. The Administration should be working to cut spending and should be focusing on core government duties. This legislation prevented the U.S. from defaulting on its debt, which is a better solution than raising the debt ceiling and simply postponing a crisis to deal with it at a later date.
Ending Earmarks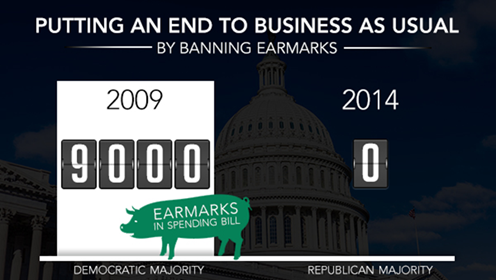 The 2008 end of the year spending bill included more than 9,000 earmarks. In 2011, Republicans retook the House and instituted the first earmark ban in the history of this country. The earmark ban has remained in effect since and gone a long way to root out wasteful spending and corruption. I wholeheartedly support maintaining the ban.

Leading by Example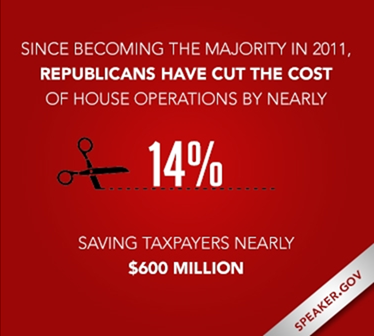 The House of Representatives has saved taxpayers nearly $600 million since 2011 by trimming their own operating budget by 14%. In addition Congress has not given itself a raise during my entire tenure in Congress. The last pay increase for members of Congress occurred in 2009. Under federal law, Congress is supposed to obtain an annual pay raise equivalent to the prior year's average private sector wage change. My colleagues and I have voted at least seven times since 2009 to block that pay raise.