Our forests and natural resources are a way of life in Arizona. Rural Arizona is home to over nine million acres of United States Forest Service administered land, including much of Apache-Sitgreaves, Coconino, Coronado, Kaibab, Prescott, and Tonto National Forests.
These ecosystems are suffocating under too many trees. Where we once had 10 to 25 trees per acre, we now have hundreds. These conditions have increased wildfire conditions. The frequency of fires, and the magnitude of the acreage burned, has exponentially increased since 1990. The five largest wildfires, Rodeo-Chediski in 2002, Cave Creek Complex in 2005, Willow in 2004, Horeshoe Two Fire in 2001 and the Wallow Fire in 2011 all occurred within the last two decades. Prior to 1990, the largest fire was the Carrizo fire in 1970 which burned just 57,000 acres.

I will never forget the Yarnell Fire of 2013 which claimed the lives of 19 elite Granite Mountain Hotshot firefighters.
The Yarnell Fire began when lightning struck approximately 30 miles southwest of Prescott, Arizona off Highway 89 on June 28, 2013. The blaze burned approximately 8,400 acres and damaged more that a 1,000 structures over a fifteen day period. During the disaster, nineteen firefighters from the Granite Mountain Interagency Hotshot Crew lost their lives battling fire, the sixth deadliest American firefighter disaster overall and the deadliest wildfire ever in Arizona. I hosted a public memorial that more than 1,200 members of the community attended, with at least 200 listening outside the venue. All of these brave men were taken from us much too young. Let us never forget their sacrifice.

Our forests have been mismanaged for a long time and it is way past due that we change our strategy. As your Congressman, I have been fighting for proactive, solutions oriented, and fiscally sustainable policies that restore the environment, improve public safety, and put people back to work in our forests.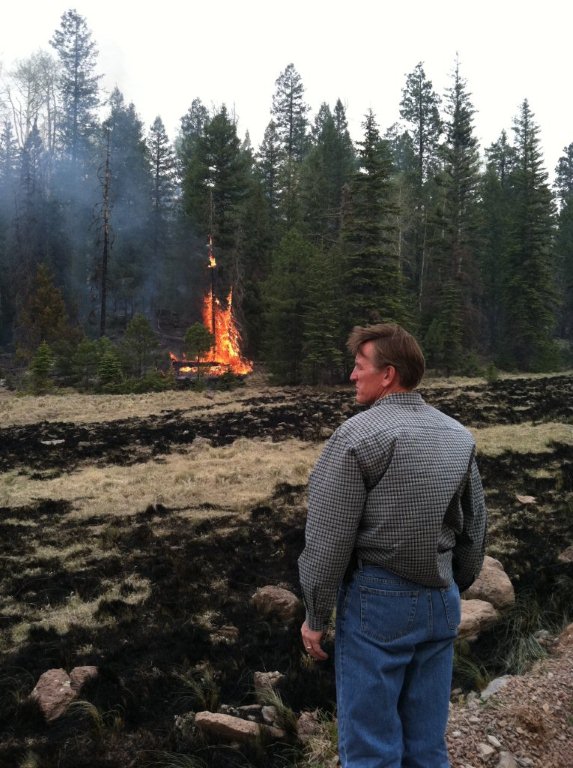 Catastrophic wildfires are a significant threat to wildlife, watersheds and communities throughout the West. 2018 was one of the worst wildfire seasons on record. More than 58,000 fires burned more than 8.8 million acres. Over the last few years, the Forest Service has spent record amounts of money on suppressions, more than $2.5 billion in 2017 alone. Last year, the Carr and Camp Fires in Northern California destroyed almost 30,000 structures and caused between $9.5 million-$12 million in damage.
Between 60 and 80 million acres of our National Forest System are considered high risk and in need of treatment to address forest health challenges such as fire, insect mortality, and invasive species. Most of this land is located within Western states. It is absurd that we allow our forests to become powder kegs that invite bigger and hotter fires every summer. It isn't a matter of if our beautiful nation's forests are going to burn—it is only a matter of when.
It does not have to be this way. The biggest hindrance is the U.S. Forest Service bureaucracy in Washington and extreme special-interest groups that stop responsible forest management activities. Because the Forest Service refuses to permit hazardous fuel management projects in our forests, they are overcrowded with trees that go up in flames during droughts, and invite massive conflagrations. It would be far easier to thin the forest conscientiously in advance than resort to emergency fire suppression, which risks lives and property.

It is of the utmost urgency that the federal government adopt a forward-thinking, active management strategy that combats dangerous wildfires before they get started.
Thinning overgrown forests and removing hazardous fuels will create jobs and increase overall forest health. Unfortunately, extremist environmentalists fail to comprehend this fact and hold up important forest health management projects that would actually help reduce greenhouse gas emissions and benefit the environment.

The Forest Service has been maxing out its suppression account each year and has been forced to raid its forest management and other accounts in order to put out fires. They've had to use resources designed to prevent forest fires in order to put them out. This merry-go-round practice is called "fire borrowing," and it has dramatically exacerbated the problem of catastrophic wildfires. In fact, eight times in the last twelve years, the Forest Service has moved funds from other operating accounts to fight fire, depleting accounts for forest management in the process.
This classic example of Washington misprioritization is extremely misguided. The Forest Service's own Fuel Treatment Effective Database reports that "over 90 percent of the fuel treatments were effective in changing fire behavior and/or helping with control of the wildfire." Unfortunately, federal land management agencies have failed to recognize this correlation and timber harvests are down 80 percent over the last 30 years. Such flawed thinking also negatively impacts education and local communities as historically 25 percent of the receipts from all timber harvested by the federal government go toward schools and important infrastructure projects.

Special-interest groups claim that we must lock up our forests, and tie the hands of local Forest Service administrators by threatening lawsuits every time a responsible forest management policy is proposed. In fact, litigation and other challenges have caused a significant reduction in active saw mills nationwide, from 1,311 in 1995 to just over 200 today. These litigants have also exacerbated significant destruction of our forests and private dwellings as the environmental degradation these groups claim to want to avoid occurs on a massive scale through air pollution, water contamination, and destruction of species habitat. Robust data from NASA has concluded that one catastrophic wildfire can emit more carbon emissions in a few days than total vehicle emissions in an entire state over the course of a year.
The Resilient Federal Forests Act, H.R. 2607

H.R. 2607, the Resilient Federal Forests Act, introduced by Rep. Bruce Westerman, 17 other colleagues and I, is bipartisan, comprehensive legislation that simplifies the cumbersome planning process and reduces the cost of implementing proactive forest management strategies in order to improve forest health throughout the country. It empowers local stakeholders and decision-making while advancing a forward-thinking active management strategy to combat wildfires before they get started. This bill is a package of forest management reforms that include regulatory expedition for forest management projects, a new arbitration pilot program for court cases in which an injunction against forest management projects is sought, as well as new incentives for agencies to coordinate with state and local governments to seek forest management solutions. The net effect of these reforms will be to reduce the barriers to proactive forest management while preserving environmental protections and the legal right to recompense for harm or breach. H.R. 2607 requires litigants opposing active management projects to propose an alternative proposal as opposed to just saying no. This legislation also removes incentives for extreme special-interest groups to file frivolous lawsuits. This bill was passed by the House in the 115th Congress and Western Caucus was proud to play a key role. More HERE.

Western Caucus Fights for Active Forest Management Provisions in the Farm Bill

On 9/20/18, 39 other members of Congress and I sent a letter to the Farm Bill Conference Committee urging them to include important forestry provisions in the Farm Bill. On 06/21/2018, the House of Representatives passed H.R. 2, the Agriculture Improvement Act, otherwise known as the Farm Bill, with a recorded vote of 213-211. The House base bill included 10 categorical exclusions that allow for active management of our nation's forests and critical response. The base bill also reauthorized the Landscape Scale Restoration Program. I passed an amendment that was signed into law and expanded Good Neighbor Authority to counties and tribes. More HERE.
H.R. 1873, the Electricity Reliability and Forest Protection Act

In the 115th Congress, the Western Caucus Members spearheaded the Electricity Reliability and Forest Protection Act, legislation which reduces fire risks and hazards as well as ensures reliable electricity service by allowing management of high-risk vegetation in close proximity to power lines to occur in and near certain federal rights-of-way (ROW). Electric utilities must seek permission and approval from the appropriate federal land management agency (Forest Service or BLM) for their proposed vegetative management plan. Active vegetative management along these ROWs is extremely important, including the removal of trees, living, dead or dying, which would contact a power line if not properly maintained. In August 2006, three power lines in the Pacific Northwest sagged and came into contact with untrimmed trees resulting in a blackout that impacted 7.5 million people across 14 Western states, two Canadian Provinces and part of Mexico. And in August 2008, a falling tree spurred a blackout for more than 50 million electricity customers across the Northeastern and Midwest states. This law promotes federal land management agency consistency, accountability, and timely decision-making as it relates to protecting electricity transmission and distribution lines and habitat on federal lands. The House of Representatives passed the Electricity Reliability and Forest Protection Act by a bipartisan vote of 300-118 and this legislation was included in a package that was signed into law. Click HERE to read more.
Western Caucus Secures Additional $576.5 Million for Wildfires
Led by Western Caucus and I, 32 members sent the Trump Administration a letter asking that the Administration send Congress a proposal that includes comprehensive forest management and wildland fire budgeting reforms as part of the next disaster relief request. This effort was successful and resulted in $576.5 million for wildfires and strong active forest management language. This Western Caucus initiative also prevented the Forest Service from having to raid their active management accounts in order to fund suppression costs. More HERE.

Catastrophic Wildfire Prevention Act
In 2014, the majority of my Catastrophic Wildfire Prevention Act, H.R. 1345 was signed into law as part of the Federal Agriculture Reform and Risk Management Act (H.R.2642). My bill authorized important stewardship contracting, good neighbor authority as well as important insect and disease infestation designations. This commonsense legislation reduced government bureaucracy and allowed wildfire prevention projects to move forward quickly. CLICK HERE to read more.
Leading the Charge on Important Forestry Provisions
In April of 2019, Western Caucus Members and I led and submitted multiple submissions for fiscal year 2020 Appropriations bills in order to ensure active management of our nation's forests, prevent catastrophic wildfires and protect our communities. These five submissions urged prioritization of bark beetle treatment and hazardous fuels reduction, supported important active management policy proposals put forth by the administration, and urged funding for improvements and maintenance of Forest Service roads. CLICK HERE to read more.