As a small business owner in rural Arizona for over 25 years and the grandson of a Western Wyoming rancher, I am very cognitive of the challenges facing Arizona's agriculture industry. Four of Arizona's historic Five Cs are agriculture related and include: cattle, cotton, citrus and climate. Ranchers and farmers manage more than 26 million acres of land in Arizona. Nearly 900,000 head of cattle are raised on approximately 4,000 Arizona ranches each year. While not quite as large as it once was, cattle ranching still provides a significant amount of revenue for our state. In 2010, Arizona beef comprised nearly one-third of the state's $10 billion dollar ag industry as Arizona ranchers produced enough meat to feed 4.6 million Americans.
Cotton has an extensive history in Arizona and at one time, nearly 800,000 acres of cotton was produced in Arizona annually. While only about 200,000 acres of cotton are currently grown in Arizona fields each year, yields per acre have increased significantly. Pinal County and Maricopa County lead the way and produce significant amounts of cotton for our state. In 2011, approximately 900 farms produced an average total of 600,000 bales and generated more than $350 million for Arizona's economy.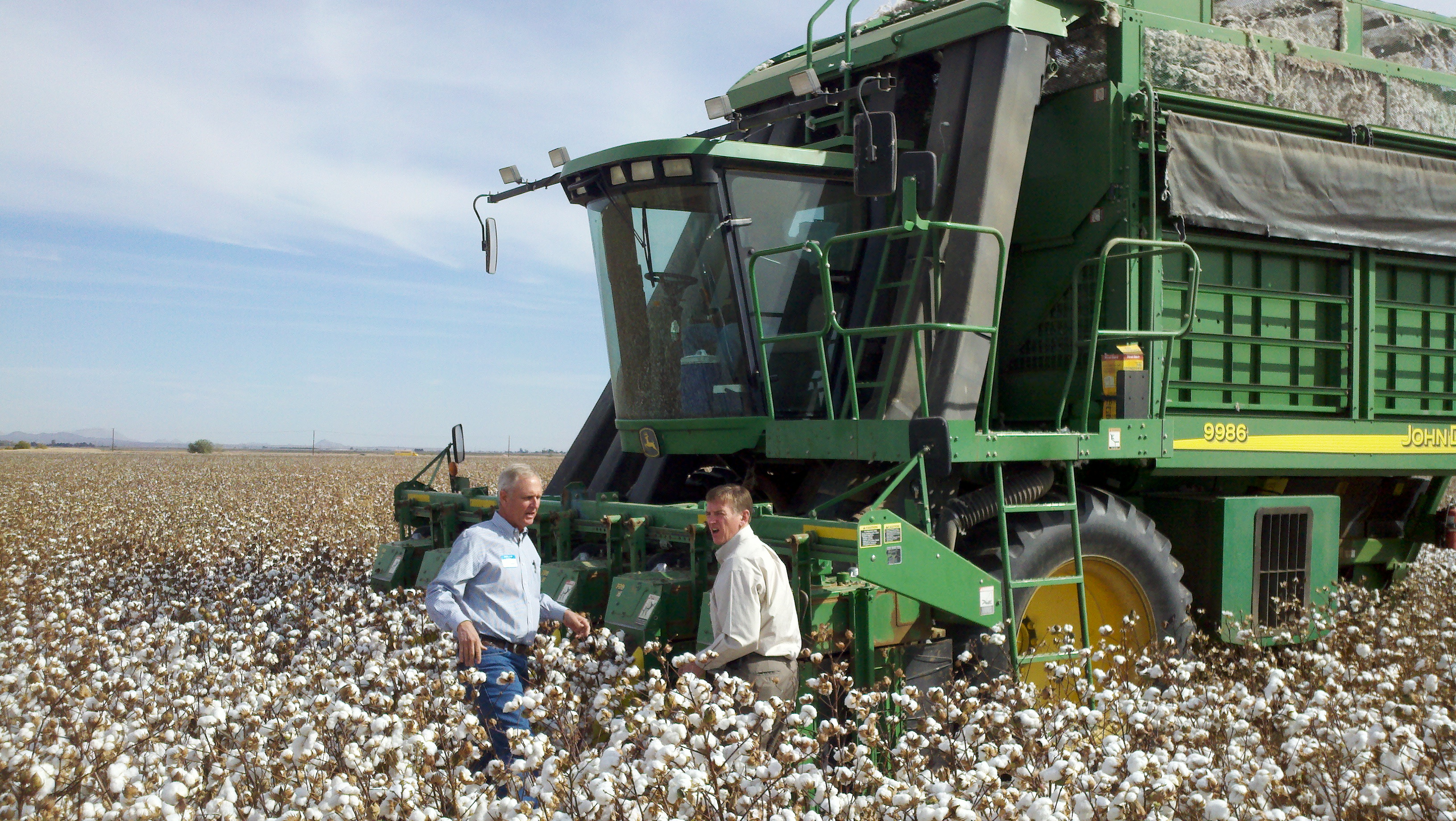 Citrus groves in Yuma, Maricopa, Pinal and Mohave counties produce a significant amount of commercial crops which include lemons, oranges, tangerines and grapefruit. Today, Arizona is second only to California in lemon production and is one of only four states that produce citrus. 95% of our country's lemons come from Arizona and California. Yuma County produces the most citrus in Arizona. Arizona is the fourth largest producer of both oranges and grapefruit in the country. I am also incredibly proud that Yuma County is the winter lettuce capitol of the world. We grow 90 percent of the salad greens eaten in the United States during the winter months. Many people even refer to Yuma as the nation's salad bowl.
The biggest issue facing agriculture right now is water. For those of us in the West, state water laws and the rights they protect are paramount to our economy, our environment and our way of life. Westerners suffer from drought on a constant basis, which is why we invested in water storage and delivery projects that supply water and hydropower in dry times. Attempted water grabs by federal agencies during the Obama Administration have been atrocious. Whether it is Waters of the U.S. (WOTUS), the Ground Water Service Directive, or the ski area water rights permitting conditions, the federal government has attempted an all-out assault to take control of precious water resources that have traditionally been managed by states or private ownership. To combat this, I have introduced and supported a number of legislative efforts aimed at protecting agriculture and our vital water supplies.
Another significant problem facing our agricultural community is that we lack sufficient domestic agricultural workers to meet the needs of our farmers, especially during the busy seasons. Unfortunately, the current guest-worker program is broken and in need of significant reform. As long as these programs are viable, are constructed in such a way that they do not take jobs away from American citizens and don't incentivize further illegal immigration, they can be a valuable tool for economic development and agriculture.
In an effort to further improve agriculture in the United States, I voted in favor of the House version of H.R. 2642, the Federal Agriculture Reform and Risk Management Act, better known as the Farm Bill. I was very happy to see that this legislation separated the agricultural assistance programs included in this bill from the food stamps program. These are two very different programs that should be voted on independently of each other. This legislation also included important reforms to the food stamp program and sought to require a work requirement in order to receive welfare benefits. I have always been and will continue to be a strong supporter of agriculture.
Blocking the EPA's Harmful WOTUS Regulation
The EPA's new Waters of the U.S. regulation (WOTUS) was slated to go into effect August 28th. Fortunately, the Sixth Circuit has issued a nationwide stay and temporarily blocked implementation of this new rule. WOTUS is a disastrous policy that would allow the federal government to claim control over vast expanses of private and public land and water. If implemented, this new regulation will be especially detrimental to farmers and ranchers. WOTUS contradicts prior Supreme Court decisions by expanding agency control over 60% of our country's streams and millions of acres of wetlands that were previously non-jurisdictional. I have introduced legislation, inserted funding riders into appropriations bills, blocked a democrat amendment that tried to strip one of my WOTUS riders and voted at least five different times for legislation that has passed the House to block WOTUS. In July 2015, I berated EPA Administrator Gina McCarthy about this new regulation. In January 2016, the House and Senate passed legislation blocking WOTUS utilizing the Congressional Review Act and put a bill on President Obama's desk. CLICK HERE to read more.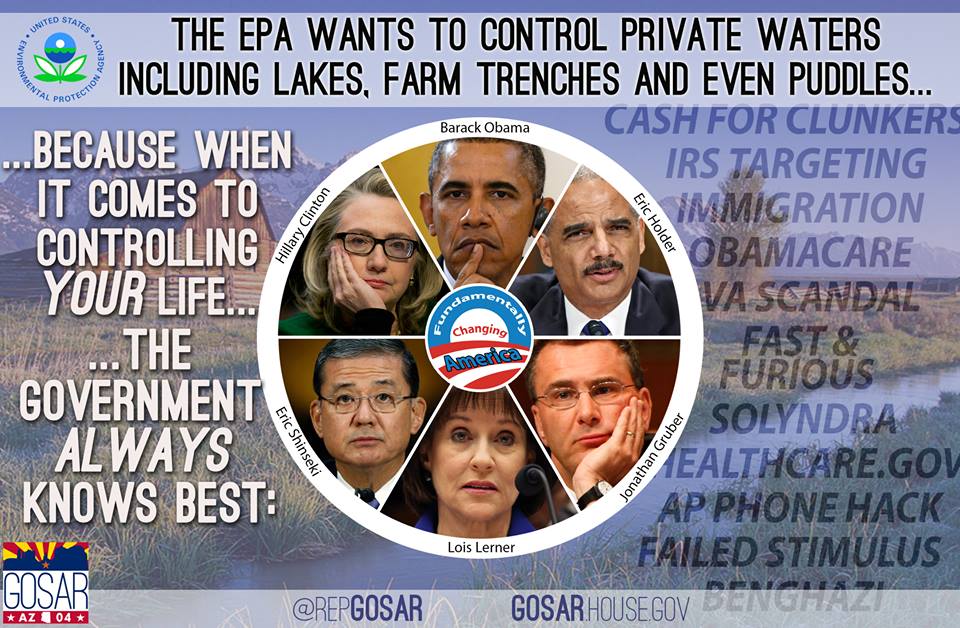 Increasing Water Storage and Supporting Western Drought Solutions
In May 2015, the House passed three Gosar amendments to protect Western water supplies and to increase water storage. The Gosar-Newhouse amendment prevented any appropriations from being used to remove any federally-owned and operated dams. Extremist environmental groups have been pushing for their removal in recent years. These dams are critically important to provide water storage and irrigation for agriculture. I also passed two other amendments transferring appropriations from DOE's slush fund to the Corps of Engineers Construction and Investigations budget so that they can complete infrastructure programs that will provide clean water and expand water storage. CLICK HERE to read more.
Blocking the Forest Service's Flawed Groundwater Directive
Last year, the Forest Service proposed a sweeping Groundwater Directive under the guise of eliminating future litigation. That Directive only caused further confusion and potential litigation. It has been universally recognized since a 1935 Supreme Court Case that the sole authority over groundwater resources belongs to individual states. Alarmingly, the attempted water grab by the USFS and its misguided groundwater directive was proposed without input from state or local leaders and without any meaningful outreach to water users themselves. I fought the proposed groundwater directive from the beginning and in April, as a result of Congressional pressure from my colleagues and I, the Forest Service withdrew its overreaching proposed rule. While this is good news, states, localities and private entities still face regulatory uncertainty under the shadow of the federal government. CLICK HERE to read more.
Western Water and American Food Security Act
American families, small businesses and farmers are hurting in the West and desperately need relief from crippling drought conditions. Unfortunately, the Obama Administration has exacerbated that pain throughout Western states by putting the demands of extremist special interest groups ahead of hard-working American families. This has had a dramatic impact: killing thousands of jobs, harming our food supply and leading to unemployment levels as high as 40% in some communities. I am proud to be a cosponsor of the Western Water and American Food Security Act. This bill increases water storage, modernizes the permitting process for water projects, assists with lowering food costs, and protects state water rights from federal water grabs. In July 2015, the House passed this legislation with my support. CLICK HERE to read more.
Prohibiting Executive Overreach and National Monument Designations
Special interest groups have been pushing for President Obama to circumvent Congress and make a massive 1.7 million acre designation using the Antiquities Act for the Grand Canyon Watershed. The intentions of these self-interest groups are clear: they want this designation to prevent energy development, timber harvesting, grazing, mining and different types of recreation on this massive swath of land. A designation of this size would cause significant harm to our economy and kill thousands of local jobs. In November of 2015, I introduced H.R. 3946, the Protecting Local Communities from Executive Overreach Act, legislation which updates the 1906 Antiquities Act in order to protect property rights, water rights and jobs from presidential abuse of the Antiquities Act. H.R. 3946 is supported by all five Arizona House Republicans and blocks two misguided monument efforts in the Grand Canyon Watershed and the Sedona Verde Valley, both of which have significant local opposition. I have also passed two appropriations amendments through the House to block these unilateral land grabs. CLICK HERE to read more.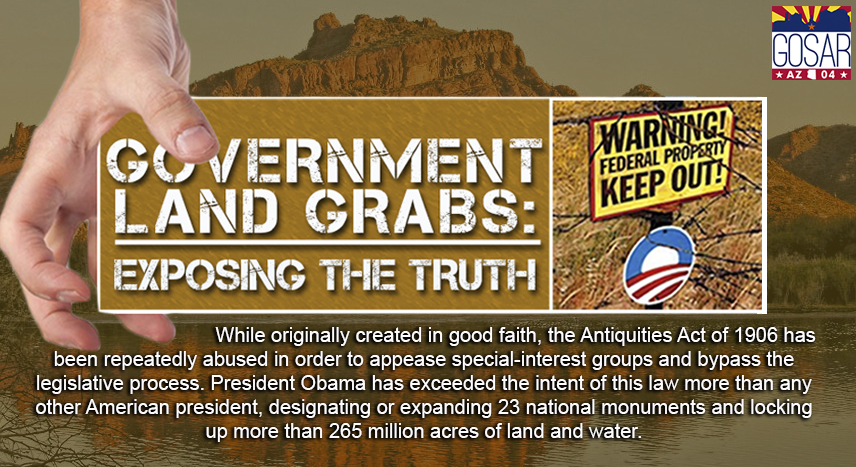 The Bureau of Reclamation Transparency Act
I've introduced H.R 1107, the Bureau of Reclamation Transparency Act, legislation which requires a cost estimate and a detailed list of major repairs for BOR facilities. Such actions will allow for meaningful steps to be taken to address the maintenance backlog as well as ensure an abundant supply of clean water and power for future generations. This bipartisan legislation passed the House Natural Resources Committee in October 2015. CLICK HERE to read more.
The Environmental Compliance Cost Transparency Act
I've also introduced H.R. 1869, the Environmental Compliance Cost Transparency Act. This commonsense bill requires federal agencies active in the wholesale power business to disclose the costs of environmental compliance to their customers. For far too long, the high cost of burdensome federal environmental policies has been hidden from the public. American energy consumers deserve to know how much environmental policies are costing them on their electrical bills. The bill is endorsed by the Colorado River Energy Distributors Association, the Grand Canyon State Electric Cooperative Association, the Arizona Westside Irrigation and Electrical Districts, and the Irrigation & Electrical Districts' Association of Arizona. CLICK HERE to read more.
The Water Rights Protection Act
The Water Rights Protection Act prevents the federal government from taking privately held water rights without just compensation. This would protect a variety of water users including rural communities, businesses, recreation opportunities, farmers and ranchers as well as other individuals that rely on privately held water rights for their livelihood. It does so by prohibiting federal agencies from extorting water rights through the use of permits, leases, and other land management arrangements, for which it would otherwise have to pay just compensation under the 5th Amendment of the Constitution. I played an active role in assisting my good friend and colleague Scott Tipton in passing this legislation through the House, through the Resources Committee and Water and Power Subcommittee in the 113th Congress and am a cosponsor again this Congress. This legislation is necessary as the Forest Service and BLM have been aggressively pursuing such takings for several years now.
Blocking the Department of Labor's Proposed Child Farm Chore Regulations
In September 2011, the Department of Labor (DOL) issued a notice of proposed rulemaking and attempted to dramatically overhaul youth agriculture labor regulations. This nonsensical proposal attempted to implement the most sweeping changes since the 1970s and could have prohibited our nation's youth from participating in 4-H programs and from working or doing basic functions on family farms. This proposed regulation were so unreasonable that they attempted to prevent teenagers from using ladders higher than six feet tall, from performing any task involving pesticides regardless of pesticide toxicity, from operating power-driven equipment and even from bailing hay. After much Congressional pressure from my colleagues and me, DOL announced that it was pulling the proposed rule. This was a victory for commonsense and our country's ag producers.
Hydropower Development and Rural Jobs Act
In the 113th Congress, the Tipton-Gosar Hydropower Development and Rural Jobs Act, H.R.687, passed Congress and was signed into public law. This bill eliminated duplicative regulations that were stymieing development on irrigation canals. Specifically, it allows Arizonans that operate existing irrigation canals and ditch systems--man-made canals and pipes-- to install hydropower generators. To be clear: we are not talking about free-flowing rivers or streams. These are man-made structures that have already gone through environmental review. These canals do not contain endangered fish or wildlife. This commonsense legislation will create jobs in rural Arizona, increase our country's renewable energy portfolio, and generate revenues for the federal treasury by cutting duplicative, bureaucratic red tape. CLICK HERE to read more.
Citrus Disease Research and Development Trust Fund Act
In the 113th Congress, I cosponsored the Citrus Disease Research and Development Trust Fund Act, H.R. 853, to combat citrus greening that is threatening the southern Arizona Citrus industry. As I mentioned previously, Arizona is second only to California in lemon production and is one of only four states that produce citrus. Citrus production is very important to Arizona's economy.
Navajo Generation Station
I have done everything in my power to fight the EPA's efforts to shut down Navajo Generation Station —an action that would exponentially increase the cost of water for all of AZ farmers and kill rural jobs. In the 112th Congress, the House passed my Navajo Generating Station amendment, limiting the authority of the EPA to issue regulations that threaten tribal jobs, Arizona's water security, and the federal government's legal obligations to Arizona tribes. CLICK HERE to read more.
The Grazing Improvement Act
In the 112th Congress, I cosponsored and voted for the Grazing Improvement Act. This bill improved and streamlined the process for renewing livestock grazing permits. It also extended the life of permits to provide more certainty and stability to the livestock grazing community. CLICK HERE to read more.
Death Tax Termination Act
I am an ardent supporter and cosponsor of H.R. 1105, the Death Tax Repeal Act, which serves as a repeal of the estate tax. I have voted multiple times to repeal this unjust tax. Mothers and fathers are taxed on their earnings and holdings while they are alive, and they should not have to worry about those holdings being taxed, yet again, when they die and aim to leave their children their belongings. This bipartisan legislation passed the House on April 16, 2015, by a vote 240-179. It is my hope that this legislation will be taken up by the Senate in a timely manner and signed into law by President Obama.
The Endangered Species Act
Frivolous lawsuits from extremist environmental groups and federal agency endangered species actions continue to hammer western states and stifle local conservation efforts. To make matters worse, these listing decisions are usually based on secret science and pseudo-science, including studies that do not allow for peer-review of the underlying data. Even more troubling is the fact that attorneys have been making millions of dollars based on lawsuits associated with the Endangered Species Act and that the federal government doesn't even know how much money has been paid out. In April 2014, the House passed four bills of which I was a cosponsor that make commonsense changes to increase transparency, save taxpayer money, ensure local involvement in species conservation and the designation process, limit the hourly rate attorneys can charge the taxpayers for Endangered Species Act lawsuits, and require the federal government to make available to Congress and the public any data it uses to determine which species to list as endangered. CLICK HERE to read more.
The Open Book on Equal Access to Justice Act
In November 2015, the House passed the bipartisan Collins-Gosar bill requiring tracking and disclosure of attorney fees paid out from environmental lawsuits. Prior to 1995, EAJA payments were approximately $3 million dollars annually. Unfortunately, EAJA has operated in the dark for more than 20 years and payments have skyrocketed. The Government Accountability Office recently confirmed that we don't even know the totality of these costs as most federal agencies don't even bother trying to compile this information. H.R. 3279, the Open Book on Equal Access to Justice Act, tracks how much money is paid out under EAJA, and more importantly, from which agencies. CLICK HERE to read more.
Blocking the Sonoran Desert Tortoise Listing
In July 2015, the House passed the Gosar amendment to block the U.S. Fish and Wildlife Service from listing Sonoran Desert Tortoise (SDT) as an endangered or threatened species. This listing would have tied up 15 million acres with new regulations and red tape, harming agriculture and grazing. Specifically, a listing would be detrimental for 273 different grazing allotments and jeopardize nearly six million acres used for livestock grazing. Fortunately, in October 2015 U.S. Fish and Wildlife Service announced that the Sonoran desert tortoise will be removed from the Endangered Species Act (ESA) candidate list. CLICK HERE to read more.
The Mexican Wolf
In July 2016, the House passed the Gosar/Pearce amendment by a vote of 219-203 allowing for the responsible state management of the Mexican Wolf and successfully attached the amendment to the Department of Interior, Environment, and Related Agencies Appropriations Act for Fiscal Year 2017. The Federal approach to managing the Mexican Wolf has been a lose/lose situation for everyone involved. The status quo has resulted in the Mexican Wolf lingering on the Endangered Species list for 40 years. States have proven better at species conservation and management than a bloated bureaucracy that only responds to frivolous lawsuits." CLICK HERE to read more.
In June 2015, Congressman Pearce and I introduced H.R. 2910, the bipartisan Mexican Wolf Transparency and Accountability Act. This commonsense legislation seeks to ensure that the United States Fish and Wildlife Service's (the Service's) new rule issued on January 16, 2015—implementing new regulations for the nonessential experimental population of the Mexican wolf under Section 10(j) and listing the Mexican wolf as an endangered subspecies—has no force or effect. These actions are necessary to protect local communities and to rein in the Service for failing to comply with federal law before implementing this new directive. This bill is endorsed by: National Cattlemen's Beef Association, Public Lands Council, Americans for Limited Government, Arizona Cattleman's Association, Arizona Farm Bureau, Arizona Cattle Growers' Association, Arizona Cattle Feeders' Association, Arizona Association of Conservation Districts New Mexico Farm and Livestock Bureau, Coconino County Farm Bureau and Cattle Growers Association, Yavapai Cattle Growers Association, Navajo/Apache Cattle Growers Association, Greenlee Cattle Growers Association, La Paz Stockmen's Association, Mohave Livestock Association, Gila County Cattle Growers Association, Maricopa County Cattle Growers Association, Cochise /Graham Cattle Growers Association, Southern Arizona Cattlemen's Protective Association. CLICK HERE to read more.