Restoring Healthy Forests and Preventing Dangerous Wildfires

Our forests and natural resources are a way of life in Arizona. Rural Arizona is home to over nine million acres of United States Forest Service administered land, including much of Apache-Sitgreaves, Coconino, Coronado, Kaibab, Prescott, and Tonto National Forests.
These ecosystems are suffocating under too many trees. Where we once had 10 to 25 trees per acre, we now have hundreds. These conditions have increased wildfire conditions. The frequency of fires, and the magnitude of the acreage burned, has exponentially increased since 1990. The five largest wildfires, Rodeo in 2002, Cave Creek in 2005, Willow in 2004, Aspen in 2003, and the recent Wallow Fire have all occurred in the last ten years. Prior to 1990, the largest fire was the Carrizo fire in 1970 which burned just 57,000 acres.
Our forests have been mismanaged for a long time and it is way past due to change our strategy. As your Congressman, I have been fighting for proactive, solutions oriented, and fiscally sustainable policies that restore the environment, improve public safety, and put people back to work in our forests.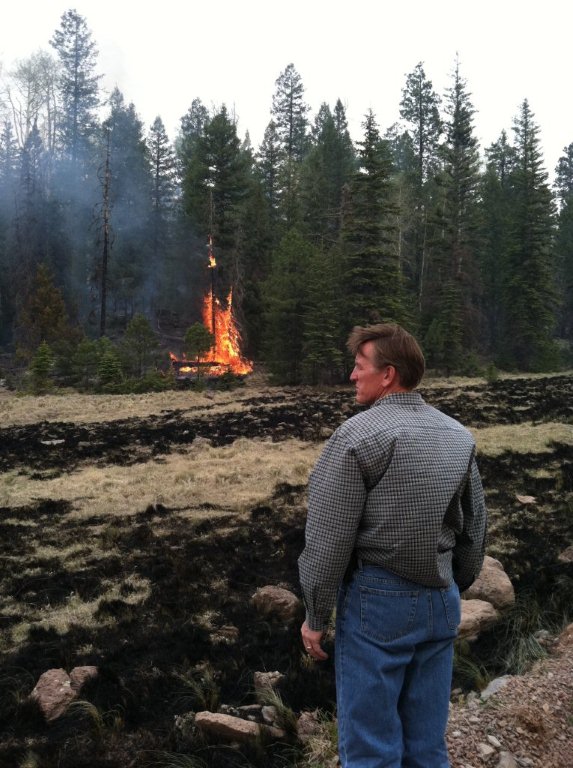 It is of the utmost urgency that the federal government adopt a forward-thinking, active management strategy that combats dangerous wildfires before they get started. As a medical professional for over 25 years, I know firsthand that preventive care is a much cheaper and effective treatment as opposed to dealing with an illness or disease after it has already been diagnosed. This must be the same approach we take to forest health and wildfire prevention. Unfortunately, President Obama and his administration continue to play politics with wildfires and waste billions of dollars on the back-end on suppression.
Nearly 10 million acres burned in the 2012 wildfire season. Failure to focus on wildfire prevention strategies that season resulted in 44 times as many acres being burned than responsibly harvested as the Forest Service only harvested approximately 200,000 acres in the entire country.
Unfortunately, the same backwards thinking of the federal government has not remedied the crisis in our forests and the 2015 fire season set a new record burning 10,125,149 acres throughout the country. In fiscal year 2015, the fire season appropriations request was approximately $4 billion for all wildfire programs. Shamefully, the president requested only $356 million of those funds go toward hazardous fuels reduction activities.
Thinning overgrown forests and removing hazardous fuels will create jobs and increase overall forest health. Unfortunately, extremist environmentalists fail to comprehend this fact and hold up important forest health management projects that would actually help reduce greenhouse gas emissions. Sound data from NASA has concluded that one catastrophic wildfire can emit more carbon emissions in a few days than total vehicle emissions in an entire state over the course of a year.
This classic example of Washington misprioritization is extremely misguided. The Forest Service's own Fuel Treatment Effective Database reports that "over 90 percent of the fuel treatments were effective in changing fire behavior and/or helping with control of the wildfire." Unfortunately, federal land management agencies have failed to recognize this correlation and timber harvests are down 80 percent over the last 30 years. Such flawed thinking also negatively impacts education and local communities as historically 25 percent of the receipts from all timber harvested by the federal government go toward schools and important infrastructure projects.
Timber Harvests Down 80% Over the Last 30 Years

Graphic Credit: House Natural Resources Committee

On January 4, 2016, the National Interagency Coordination Center released the official total number of fires and acres burned for 2015: "The 2015 fire season set a new record for the number of acres burned in the United States, totaling 10,125,149 acres."

Less Thinning = More Acres Burned

Graphic Credit: House Natural Resources Committee

Over the last 10 years, the percentage of the Forest Service's budget spent on fire suppression has increased from approximately 13 percent to nearly 40 percent of the entire annual budget. Significant reforms are needed to reduce these costs and empower the private sector.
This backwards thinking strategy is extremely costly
WFM Appropriations for FY2005-FY2014
(billions of dollars)

Graphic Credit: Congressional Research Service

The Catastrophic Wildfire Prevention Act
In February 2014, the majority of my Catastrophic Wildfire Prevention Act, H.R. 1345 was signed into law as part of the Federal Agriculture Reform and Risk Management Act (H.R.2642). My bill authorized important stewardship contracting, good neighbor authority as well as important insect and disease infestation designations. This commonsense legislaiton will reduce government bureaucracy so that wildfire prevention projects can move forward quickly when the public is at risk. CLICK HERE to read more.

Below are the specific sections of the Farm Bill that incorporate Rep. Gosar's Catastrophic Wildfire Prevention Act:

SEC. 8204. INSECT AND DISEASE INFESTATION: Authorizes the Secretary of Agriculture to designate "critical areas" in the National Forest System based on a set of criteria that consider deteriorating forest health. Projects within those areas will be streamlined. These reforms are important because the Forest Service is hampered in its ability to thin diseased areas affected by bark beetle infestation - more than 40 million acres of infested forest since 2003 - by the amount of analysis required beforehand.

SEC. 8205. STEWARDSHIP END RESULT CONTRACTING PROJECTS: This provision allows the Forest Service and Bureau of Land Management to enter into contracts and agreements, which result in the restoration of watersheds, hazardous fuels reduction and other active management services that improve overall forest health. My language provides Congressional guidance to the field about how to calculate the federal government's portion of liability concerning stewardship end-result contracting projects, which are a major bureaucratic struggle with new stewardship contracts.

SEC. 8206. GOOD NEIGHBOR AUTHORITY: Allows states, under agreements with the Secretaries of Interior and/or Agriculture, to take charge of and execute forest, rangeland, and watershed restoration and protection services on applicable federal lands. Such authority was granted to some states on a limited basis as riders in other types of legislation. This language expands that authority to all 50 states and Puerto Rico.
The Natural Resources Subcommittee on National Parks, Forests and Public Lands held a hearing on my wildfire bill in April in 2013, and my opening statement can be seen HERE or below.
The Natural Resources Subcommittee on National Parks, Forests and Public Lands held a hearing on this bill and my opening statement can be seen HERE or below.
At the hearing, Arizona leaders also testified on the importance of the Catastrophic Wildfire Prevention Act of 2013 in protecting local communities and improving forest health.
Andy Groseta – Cottonwood, AZ – President, Arizona Cattle Growers' Association
"It has become all too clear from the millions of charred acres across the west that the planning process currently in use by the federal agencies is woefully broken. Planning, studying, consulting, litigating, appealing then planning and studying more for months and even years on end is not working and must be changed. We urge the committee to advance the Catastrophic Wildfire Prevention Act of 2013 without delay, to enact commonsense solutions to reduce the threat of wildfire on public lands. H.R. 1345 will provide tools the agencies need to effectively manage the Nation's forests."
Tommie Martin – Payson, AZ – District 1 Supervisor and Vice Chair, Gila County, AZ
"Our ability to maintain a robust and diverse economy in Gila County has been eroded over the last forty years, in large part due to the restriction of access to resources on the federal lands. Because of this, the once vibrant logging and ranching industries in Gila County are now nearly extinct. Representative Gosar's bipartisan bill addresses many issues of great importance to Gila County and I strongly support it. The West is in crisis, and there are only signs of it getting worse. Federal land management policies must change direction immediately. We have no time to waste."
›Four Forest Restoration Initiative
4FRI is the largest forest restoration initiative in United States history spanning the Kaibab, Coconino, Apache-Sitgreaves, and Tonto National Forests. It is a collaborative effort between the U.S. Forest Service, timber industry, environmental groups, and local communities to restore the overgrown ponderosa pine forests which have suffered years of mismanagement and fire exclusion. Restoring the forests of norther Arizona to their natural, healthy fire-adapted ecosystem, will improve wildlife and plant diversity and reduce the risk of unnaturally catastrophic wildfire. This project represents the most important forestry project in the country and if successful, will revolutionize the way in which we manage and utilize our forests nation-wide.
Good Earth Power AZ has been awarded the historic stewardship contract to thin approximately 300,000 acres over 10 years. The contract timeline envisions 30,000 acres per year to be thinned. Despite investing millions into the project, Good Earth has only managed to thin approximately 5,000 acres over the past two years. This simply will not do. I have met several times with Good Earth leadership and Forest Service officials to express my grave frustration with the lack of progress and to demand more progress. The Forest Service points to Good Earth for failing to act on task orders that have been approved─Good Earth points to the lack of infrastructure in place to process 30,000 acres of wood product a year─Shifting the blame will not lead to progress. Stakeholders must work together in an open and transparent manner to ensure the infrastructure needed to ramp up production in 2016 is put in place. Rest assured that I will continue to exercise my oversight responsibilities and put much needed pressure on Good Earth and the Forest Service to deliver on their commitments. If we don't see significant progress in the near future, I will demand that we pursue an alternative course in order to ensure that these forests get thinned and don't pose a danger to surrounding communities.
The Resilient Federal Forests Act
In July 2015, the House passed the Resilient Federal Forests Act with my support. H.R. 2647 is a bipartisan, positive solution that seeks to end this dysfunction by strengthening collaboration between numerous local stakeholders and the U.S. Forest Service while stripping away incentives for environmental groups to file frivolous lawsuits. This legislation, of which I am a cosponsor, will streamline the permitting process for proactive thinning projects while still providing adequate resources for reforestation. CLICK HERE to read more.
Utilizing New Technologies to Combat Dangerous Wildfires
Instead of squandering billions of dollars putting out fires, we should explore groundbreaking GPS technologies, like those being utilized at Embry Riddle Aeronautical University, which can catalog and instantly determine the health of every tree in a particular forest. Such high-tech developments will allow for more timely and efficient environmental studies which in turn will get hundreds of projects off the ground. To that end, I am a cosponsor of H.R. 2909, the Protecting Firefighters and Promoting Innovation Act.
The Yarnell Fire and the 19 Elite Granite Mountain Hotshot Firefighters
The toughest day I've had during my tenure in Congress was when I learned about the Yarnell Fire and the tragic deaths of the 19 brave first responders who gave their lives protecting our community. My heart still weeps for those heroes and I will remember this horrible catastrophe as well as the public memorial service which was attended by more than 1,200 people for the rest of my life. These brave men made the ultimate sacrifice fighting to protect our citizens and for that we will be eternally grateful. I remain optimistic that above all else, the heroic actions of the Granite Mountain Hotshots will continue to inspire our leaders to make the necessary changes to prevent future devastation and destruction. We owe nothing less to these heroes. CLICK HERE to read more.